Fresh Strawberry Dessert Flower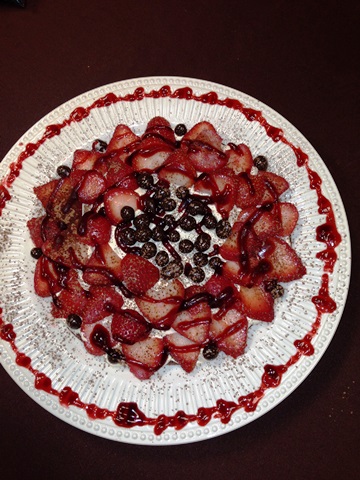 8 oz. cream cheese
7 oz. marshmallow topping
1 Tbs. mayonnaise
Fresh Strawberries, cut in half
Fresh blueberries
Using an electric mixer, beat together the cream cheese, marshmallow cream and mayonnaise.
Mound the cream cheese mixture onto the center of a serving plate.
Slice the strawberries in half as shown in the picture, from the tip of the berry to the stem.
Beginning on the outside edge to the cream cheese mound, place the strawberries around the outside edge of the mound.
Continue placing the strawberries around the circle to resemble petals. Leave a small circle in the center open and sprinkle fresh blueberries in the center.
Sprinkle additional fresh blueberries over the petals.
Drizzle the Easy Strawberry Sauce over the Strawberry Flower.
If desired, decorate the outside edge of the plate by making dots with the Strawberry Sauce and connecting the dots using a toothpick.
Recipe by
Make Life Special
at https://makelifespecial.com/fresh-strawberry-dessert/