This recipe was given to me over 30 years ago by my girl's Grandma Great.  It's full of pineapple, mandarin oranges, marshmallows and creamy vanilla pudding.  It goes together in a snap and you can serve this as a side salad or a light summertime dessert. This can also be made ahead and frozen until needed.  Our family has enjoyed this recipe many times over the years and I think your family will like it too!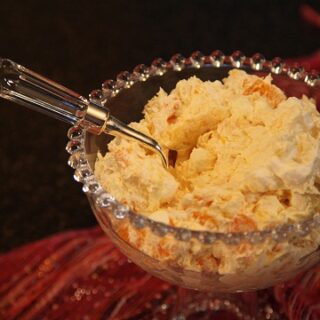 Cool Summer Salad
Ingredients
20 oz can crushed pineapple
3.4 oz package instant vanilla pudding
8 oz Cool Whip, thawed
1 cup miniature marshmallows
15 oz can mandarin oranges, drained
Instructions
Mix crushed pineapple and dry pudding mix together.
Fold in the Cool Whip.
Stir in mandarin oranges and marshmallows.
Chill well before serving.
Notes
This can be made ahead and frozen until needed.
Mix pineapple with dry pudding mix.
Fold in Cool Whip.
Add oranges and  marshmallows.
Stir to combine and chill until serving time.  To serve as a dessert, place Cool Summer Salad in Martini glasses or individual serving bowls.
To download the printable recipe with how-to photos, click here:  Cool Summer Salad
To view the complete video recipe, click here:     http://youtu.be/W-JJdI-5M08