Deviled Easter Egg Chicks Deviled Egg Recipe
Cute Little Easter Egg Chicks are a Creative Deviled Egg Recipe!
Here is a deviled egg recipe that's sure to bring ooohs and ahhhs from everyone at your Easter dinner!   Two  of my readers sent me this cute idea – Deviled Easter Egg Chicks!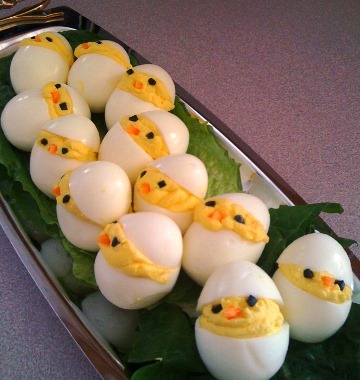 Here are the success secrets for making this great deviled egg recipe for the Easter holiday …or for any springtime brunch, lunch or family gathering.
Hard boil eggs and peel

Here's a

"Make Life Special" Extra

:  If you would like to have the chicks different

colors

, dip the peeled eggs into a mixture of 1/2 cup water and some  food coloring.  Immerse the eggs, one at a time, into the dye mixture for a few seconds or until the desired color is reached. Dry each colored egg on a paper towel.

If you want the chicks to stand alone on a plate, cut a thin straight slice from the wider bottom end of each egg so the egg will stand straight.  You don't have to do this step if you want to nestle the chicks on a plate with "grass" made from shredded lettuce or spinach as shown in the photo.

With a sharp knife, cut the top third off each egg and remove the yolk.  Mash the yolks in a bowl and make your favorite deviled egg recipe.

Refill the larger bottom portion of each egg ( using a small spoon or a small zip lock bag with a corner snipped off).  Mound the the  top of  the filling and cap with the top egg portions.

Add a tiny triangle of carrot to each egg for the beak.  Use bits of black olives or capers for the eyes.

You can also insert a sprig of fresh dill into the top cap for a tuft of feathers, if desired.

Chill at least 30 minutes before serving.  
These are absolutely adorable deviled eggs….Remember, "Let's make life special by sharing great food with our family and friends….Enjoy!"