Here is my Make Life Special Hummus Recipe that is so good!  
This hummus recipe is easy for even the beginner cook to make.  Hummus  is a dip or spread made from chickpeas ( otherwise known as garbanzo beans). You can buy canned chickpeas in any grocery store.  Garbanzo hummus dates back to at least the 13th century with many foodies describing it as "ancient food".  Certainly hummus has been around a LONG time!  I have heard Nicole and Luke rave about hummus for several years but my first experience with hummus just happened a year ago.  Bruce and I found a great restaurant that we love and one of their specialties is a Mediterranean Platter that features hummus.  As soon as I tasted it, I knew I had to recreate it at home. Be sure to check out my post on assembling the Mediterranean Platter!
How do you serve hummus?  As an appetizer, scoop hummus with a toasted flat bread such as pita.  My Toasted Pita Bread Triangles are perfect!  Garnish hummus very simply with a sprinkle of paprika as I did.  Other garnishes to "jazz it up" would be chopped tomato, chopped cucumber, parsley, a drizzle of olive oil, chopped hard boiled eggs,Kalamata olives or pine nuts.     
Once you start ordering  hummus in restaurants you will discover that hummus tastes different everywhere.  The basic ingredients are Chickpeas or garbanzo beans, lemon, garlic and Tahini.  Some types of hummus have a strong lemon flavor….others more spicy or garlicky.  When making your own hummus, you can vary the amounts of the ingredients to suit your own taste buds.
My hummus recipe is pretty basic, but I add parsley to the mix.  I like the freshness parsley brings to the table and the added burst of color.  The second thing I do to make my hummus recipe over the top is a recommendation from my daughter Nicole.  Use your fingertips and PEEL the garbanzo beans.  This is the most time sonsuming part of the recipe ( you will need about 10 minutes for this step) but I agree that it makes a smoother textured hummus.  Just remember, once you get the basic recipe mastered, you can add a little of this or a little of that to create your own masterpiece!  Try adding roasted garlic or sun dried tomatoes.  Be adventurous and enjoy your kitchen!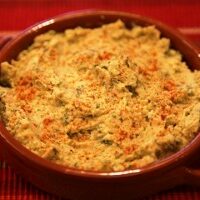 Hummus Recipe
Ingredients
1/2 cup chopped parsley
1/2 teaspoon salt
3 tablespoons Tahini ( sesame seed paste)
4 tablespoons lemon juice
1 15 1/2 oz can garbonzo beans, drained and peeled
Instructions
Place all ingredients in a blender or food processor. Process until smooth.
Refrigerate several hours before serving.
Note: You can store hummus in the refrigerator up to a month but it probably won't last that long.
Tahini is basically like peanut butter but it's made from sesame seeds.  It is a sesame seed paste that's available in most grocery stores or can be ordered online.
I refrigerate Tahini after opening to keep it fresh. 
I was really amazed at the peels in one can of garbanzo beans!  It's no wonder the hummus is smoother when your remove all of these!
Homemade hummus is the star when served on a Mediterranean Platter.  
Remember, "Let's Make Life Special by shraing great food with our family and friends!  Enjoy!"