By:  Vickie W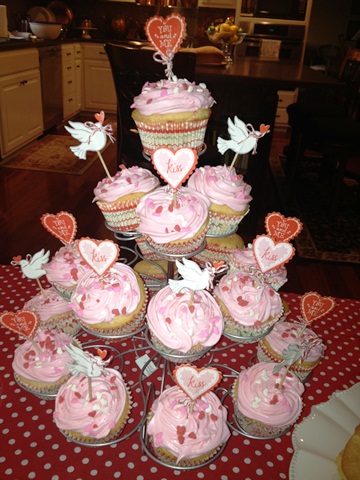 Looking for some Valentine cupcake ideas? Make Valentine's Day extra special with this great cupcake display! Cupcakes and a cupcake display are easy ways to treat your friends and family for Valentine's Day.  My friend, Oma, made this cupcake display for her grand kids.  The cupcakes were made with a mix and  then she embellished the cupcakes with pink icing and heart shaped sprinkles.  Valentine cupcake picks were used as the topper.  You could use a strawberry cake mix for pink cupcakes or swirl some vanilla cake mix and strawberry cake mix together for a marbled effect.  
Cupcake stands are inexpensive and really add pizzazz to your table.  If you can't find them locally, you can order cupcake stands online. You can also buy really cute toppers and cupcake liners with many different designs and colors.    This would turn and simple gathering into a party! Cupcakes are really trendy now.  Cupcake displays are often included on dessert buffet tables.  I have even seen them served at wedding receptions.  Kids ( and adults) of all ages love cupcakes.  If you are serving adults, you may want to make two cupcakes per person, especially if you are serving men.  You can bake a batch in no time and with just a little creativity, the cupcakes become fun for everyone.
If you have kids or grand kids, you could get them involved in making and decorating the cupcakes.  Cupcakes are very easy to mix up and even small children can get involved.  Have a variety of sprinkles and toppers available so everyone can choose their favorite!   When you share this activity with your kids, cupcakes become more than just a dessert….They become a memory your kids will long remember.        
A cupcake display would be great for an office party,  school party or a dessert buffet.  
What a great way to "Make Life Special" for Valentines Day!