Pasta Recipes Add Lots of Flavor To Your Week Night Meals!
 Looking for Easy Pasta Recipes?
Easy pasta recipes are a must for BUSY cooks and this One Pot Pasta is crazy good … it all cooks in one pan in about 10 minutes!  You do not cook the pasta separately!  You literally throw it all in the pot and cook it!  What could be easier?  And best of all…this is delicious!  You can serve it just as it show above, or you can add a simple Marinara Sauce for extra pizzazz.  Try topping this with my Quick Marinara Sauce Recipe.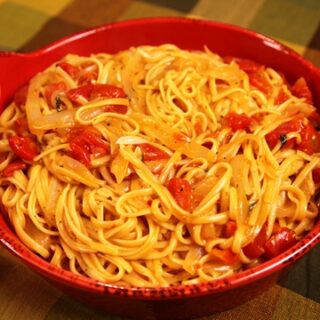 One Pot Pasta
Ingredients
12 ounces linguine pasta
15 oz can diced tomatoes, including the juice
1 large onion, cut in julienne strips
4 cloves garlic, chopped
dash of red pepper flakes
2 teaspoon dried oregano leaves
handful of fresh basil, sliced
4 1/2 cups vegetable broth
2 tablespoons olive oil
Grated Parmesan cheese for serving
Instructions
Place dry pasta, canned tomatoes, onion, garlic and basil in a large pot. Pour vegetable broth over everything in the pot. Sprinkle with the red pepper flakes and the oregano. Drizzle the olive oil over the top.
Cover pot and bring to a boil. Reduce heat and simmer for about 10 minutes but stir this every 2 minutes. Cook until most of the liquid has evaporated.
Season with salt and pepper.
Stir the pasta well and serve.
Garnish with some freshly grated Parmesan cheese if desired.
Note: You might want to top this with my Quick Marinara Sauce recipe!
 It's hard to believe, but you really just dump all of the pasta ingredients into a pot and simmer for 10 minutes!  This is one of the easiest pasta recipes I have ever made!
As this cooks, the starch cooks out of the pasta and creates a yummy sauce.  You do not drain this after it cooks.  You just let this cook and it makes its own sauce!
After the 10 minutes of cooking time, uncover and cook a couple of minutes more to reduce the sauce to the consistency you desire.  
Easy Pasta Recipes are Great for Busy Cooks!
You can dish this up and serve it as is, or you can top it with my Quick Marinara Sauce Recipe.  Either way, it's delicious!