Vickies Quick Marinara Sauce Recipe
You won't ever buy the canned marinara sauce again after you taste my Quick Marinara Sauce recipe!  This recipe is easy to make and only has five ingredients.  Like all of my Make Life Special recipes, this will have you in and out of the kitchen in no time!
Marinara sauce is a traditional Italian tomato sauce recipe that is usually made with olive oil, garlic and of course,  tomatoes.  My recipe uses the convenience of canned crushed tomatoes and it is delicious.  I add a handful of fresh minced basil right before serving to add a wonderful burst of fresh flavor!  
Marinara sauce is great on pasta, pizza, fish or meat.  I served it with my One Pot Pasta shown above.  You could also use this in my Baked Goat Cheese Marinara recipe.  
You could easily turn this into a meat sauce by adding browned ground beef or meatballs.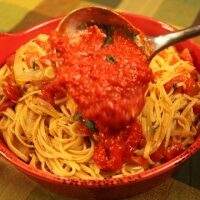 Vickies Quick Marinara Sauce Recipe
You can whip up this marinara sauce in no time!
Ingredients
1/4 cup olive oil
4 garlic cloves, chopped
3 tablespoons tomato paste
28 oz can crushed tomatoes, including the liquid
handful of minced fresh basil
Instructions
Heat the olive oil in a saucepan over medium heat. Add the garlic and cook, stirring for about 1 minute.
Add the tomato paste and cook and stir for one more minute.
Add the canned tomatoes with the liquid and simmer 10 minutes.
Stir in the minced fresh basil right before serving.
 This marinara sauce can be stored up to a week in the refrigerator and up to 6 months in the freezer.  
I like this recipe because you can make this sauce while your pasta is boiling and have dinner on the table in no time.
Remember, "Let's Make Life Special by sharing great food with our family and friends!  Enjoy!"