Every BUSY cook needs easy potato recipes!  
My recipe for Onion Roasted Potatoes is simple to make!  You just throw together the three ingredients and bake for only 30 minutes!  We are grilling steaks tonight so I'm making Onion Roasted Potatoes as a side dish.  Onion Roasted Potatoes are a snap to make because you don't even peel the potatoes.  Just diced them up, toss with a little olive oil and a packet of Dried Onion Soup Mix and these are ready for the oven!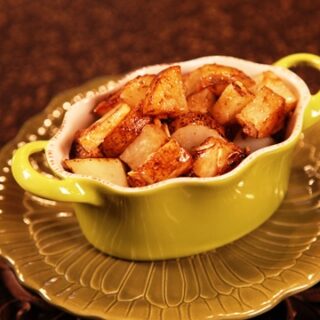 Onion Roasted Potatoes
Ingredients
4 medium potatoes, diced with the skins left on
1/4 cup olive oil
1 packet dry onion soup mix
Instructions
Combine all of the ingredients and pour into a greased casserole dish.
Bake at 350 degrees for 30 minutes
Just dice, combine and bake!  Easy…Easy!!
Here are the Onion Roasted Potatoes hot out of the oven.
And now for a few nutrition facts about potatoes.  Did you know that one medium potato has only 110 calories?  A medium potato is fat free, sodium free and cholesterol free.  A medium potato has 45% of our daily value for Vitamin C.  In addition to all of that, the skin has lots of good for you fiber. Baking and roasting are healthy ways to cook potatoes.  
You might also want to check out my Perfect Baked Potatoes Recipe with Baked Potato Bar.  It's a great choice for entertaining because your guests just assemble their own loaded baked potatoes!  And don't forget Potato Smashers!    They are like potato skins…loaded with lots of crisp bacon and sharp cheddar cheese…YUMMY! 
 

What are your favorite potato recipes?