Bourbon Dogs Easy Appetizers
Bourbon Dogs are great for easy appetizers and will have your friends begging for more!  Better make a double batch for your next party!
We love to entertain so I'm always adding easy appetizers to my recipe file.  This recipe for Bourbon Dogs has been an old standby of mine for many years.  It's quick and easy and everyone LOVES it!!!  I have four other cocktail franks  easy appetizers  I'll be sharing along the way but for now…enjoy these Bourbon Dogs!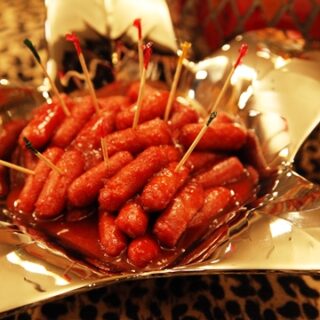 Bourbon Dogs
Total Time:
1 hour
5 minutes
Ingredients
2 cups ketchup
3/4 cup bourbon
1/2 cup dark brown sugar
1 tablespoon grated onion
1 pound Lit'l Smokies
Instructions
Combine the ketchup, bourbon, dark brown sugar and onion in a saucepan. Stir and heat until combined.
Add the Lit'l Smokies and simmer in the sauce for about 1 hour.
If mixture thickens too much....thin with a little more bourbon!!!
Ingredients….
Combine the ketchup, Bourbon, dark brown sugar and grated onion.  Heat and stir the sauce well.  Stir in the Lit'l Smokies and simmer for 1 hour.  If sauce gets too thick, thin with a little more Bourbon!
When serving appetizers, plan on making two or three different ones so your guests will have a nice selection to choose from.  I like to always make my Cheese Ball recipe and then add two other recipes to the mix.  This recipe for Bourbon Dogs can be made ahead of time, refrigerated and then reheated right before your party.  That makes it such a great recipe for BUSY schedules.  Don't let lack of time keep you from enjoying entertaining in your home.  Most of the Make Life Special recipes will fit into your schedule with a little planning.  And.. the step-by-step photos and  cooking video tutorials make it easy for even the novice cook to shine in the kitchen.
Remember…"Let's make life special by sharing great food with our family and friends!  Enjoy!"