Prizewinning Pulled Pork Recipe
Wish you had a great pulled pork recipe that's  EASY?
This prizewinning pulled pork recipe only has three ingredients and you cook it in the crock pot so you can go about your busy day and not worry about "What's for dinner?".  This is a perfect example of a Make Life Special recipe:  
It has only a few ingredients

The ingredients are readily available in your local grocery store

The recipe is quick and easy
The ingredients are :
2 pounds of pork tenderloin

12 ounce can of Root Beer
18 ounce bottle of your favorite BBQ sauce
Recipes like this help you get a great meal on the table and your family will be asking for seconds!  The key to making this pulled pork recipe a mouth-watering meal is the slow cooking time.  So grab your crock pot and get ready to give your taste buds a real Southern treat – BBQ Pulled Pork!  I love to serve my Pulled Pork Recipe with either chips ( as I have done here) or with my Cowboy Baked Beans and Potato Salad on the side.  As far as toppings go, many people love to put coleslaw on top of the pulled pork sandwich.  I like it that way too but I also like to just add the simple dill pickle slices to top off this yummy sandwich.  The choice is yours… so let's cook!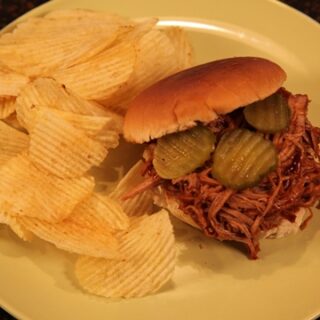 Prizewinning Pulled Pork Recipe
Total Time:
7 hours
2 minutes
Ingredients
2 pounds pork tenderloin
1 12 ounce can Root Beer
1 18 oz bottle of your favorite BBQ sauce ( I use Sweet Baby Ray's Sweet and Spicy Sauce)
Instructions
Spray the crock pot with Pam and place the pork tenderloins in the crock pot.
Pout the can of Root Beer over the tenderloins.
Cover and cook on low for 7 hours ( until well cooked and it shreds easily)
Drain the juice and Root Beer off of the tenderloins and shred the meat using two forks.
Add the bottle of BBQ sauce and warm on low another 15 minutes.
The Sweet Baby Ray's Sweet and Spicy sauce gives this just the right amount of "Kick"!  It's just like the pulled pork I loved in Kentucky.  
Now, one other quick note….
While the shredded pork is warming in the sauce, use the extra 15 minutes to toast the buns.  Just spread the buns with a little butter and heat them on a griddle or large skillet until they are golden brown.
Pulled pork has an interesting history. In the South, BBQ is synonymous with pork.  It is also usually smoked pork that is cooked until you can pull it apart with your hands.  However, BBQ's are more than food.  They are frequently events where everyone gathers to enjoy great food.  
This BBQ Pulled Pork Recipe with all the fixin's can't be beat! Remember, "Let's Make Life Special  by sharing great food with our family and friends!  Enjoy!"