For The Love of Garlic…….
I may as well admit it right now….I LOVE garlic!  I've always loved to cook with garlic but oven roasted garlic is pure culinary magic!  I mean really…..it's amazing.  You can take the strongest, stinkiest ingredient in your kitchen and in less than an hour, garlic can be roasted in the oven to a sweet, mellow, caramelized …. AND  spreadable wonder!   
I was first introduced to the unbelievable taste of Roasted Garlic when I was in my early 30's.  Nicole was about three years old and she and I went to Colorado. (Please don't try to do the math!)  A new Bistro had opened up at the resort and the chef/owner actually came out of the kitchen to talk to us.  He said he had just roasted some Elephant Garlic and wanted me to try it on the hot crusty french bread.  I was a little skeptical because up until that point in my life, I only knew the strong side of garlic.  Well…. let me tell you… It was LOVE at first bite!  The caramelized… gooey… nutty flavor was out of this world!  I had no idea garlic could be so good.  After that experience, I began experimenting with Roasted Garlic and discovered that there are so many ways to enjoy it.
The most basic way to eat roasted garlic is to spread it on lightly toasted pieces of Italian bread or baguette, just as I did in Colorado.  At one point in my life, I had a wood oven.  I have made thousands of wood oven pizzas and I always topped every pizza – no matter what kind it happened to be — with some roasted garlic cloves.  You can add roasted garlic cloves to mashed potatoes for  killer Garlic Mashed Potatoes.  You can even make a delicious Roasted Garlic & Roasted Tomato Pasta by tossing together cooked spaghetti, roasted garlic cloves, some roasted cherry tomatoes, olive oil and fresh basil.  Magnifico!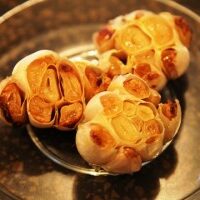 Roasted Garlic
In less than an hour, garlic can be roasted in the oven to become sweet, mellow, caramelized ... and SPREADABLE!
Instructions
Preheat the oven to 400 degrees.
Peel away the outer layers of the garlic bulb skin, leaving the skins of the individual bulbs intact.
Using a knife, cut off 1/4 to 1/2 inch of the top of the cloves, exposing the individual tops of the garlic.
Place the garlic bulbs in a baking pan, or a muffin pan. Drizzle lots of olive oil over each head, making sure the garlic heads are well coated. If you want to end up with garlic infused olive oil, use extra olive oil in this step.
Cover with aluminum foil and bake for 40 to 45 minutes, or until the cloves feel soft when pressed.
Allow the garlic to cool enough so you can touch it. Cut the skin slightly around each clove and use a cocktail fork or your fingers to pull or squeeze the roasted garlic cloves out of their skins.
Then… cover with aluminum foil and bake.
I like to serve Roasted Garlic with my Homemade Hummus Spread and Toasted Pita Bread Triangles on a Mediterranean Platter.
And one last note….I mentioned using extra olive oil when roasting the garlic in order to end up with garlic infused olive oil.  This added bonus is delicious drizzled over homemade pizza before baking, rubbed on your Thanksgiving turkey or chicken before roasting or for frying potatoes.  
Remember…."Let's make life special by sharing great food with our family and friends!  Enjoy!"