A Cookie Bouquet Makes a Perfect Gift !!!
Get a Cookies By Design Cookie Bouquet!
A cookie bouquet makes a fun and unique gift !  How many times have you tried to come up with a unique gift for someone special?  Don't know what size they wear? No problem! Don't know what they really need?  No problem! Everyone loves cookies!  Shop for Cookies by Design for your next gift gift giving occasion because Cookies By Design makes shopping easy.  You can shop these Cookie Bouquets for every occasion because it's a gift that's sure to be remembered!  Anyone would appreciate a Cookies By Design bouquet so a cookie bouquet makes gift giving easy.  It doesn't matter the age or the gender because you will find a cookie bouquet that is perfect!
Shades of Summer Cookie Bouquet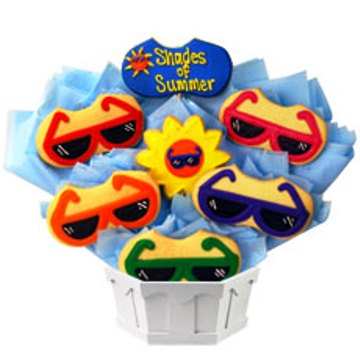 Click the link to see all of the fantastic Cookie Bouquets!
Click here:   Show your Affection with Cookies by Design!
CUTE!!  
There is a design for everyone and you are sure to get raves with a gift from Cookies By Design.
What Is A Cookie Bouquet?
A cookie bouquet is made with cookies that are baked on a stick and then decorated and creatively arranged in a container.  The cookies come in several flavors and the designs are limitless!
A cookie bouquet makes a great gift for graduation, birthdays, baby showers, holidays and any special occasion.  Everyone loves cookies and these designs make any occasion special!  The Cookies By Design company was founded in 1983 and has been providing great service year after year!  Check out all of their designs and you are sure to find just what you are looking for!
Make Life Special LOVES cookie bouquets!  They are colorful, creative, fun and delicious!