Looking For A Yummy Fruit Dip Recipe?
No party is complete without a fruit tray and a delicious fruit dip!  This fruit dip recipe is so easy to whip up and everyone LOVES it!  
The secret ingredient that makes this fruit dip so good is one packet of Dove Chocolate Discoveries Spiced Chai Tea Mix.  Dove Chocolate Discoveries has delicious chocolate treats that you can order online.  But the real fun comes from hosting a Chocolate Tasting Party!  Everyone loves chocolate and a Dove Chocolate Discoveries Chocolate Tasting Party is a delicious way to treat your friends and family!   
This yummy fruit dip only has TWO ingredients!
If you love quick and easy recipes, then this one is a winner.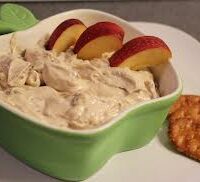 Spiced Chai Fruit Dip
Ingredients
1 packet Dove Chocolate Discoveries Spiced Chai Tea
8 oz container Cool Whip
Instructions
Mix the Spiced Chai Tea packet into the Cool Whip.
This is an awesome fruit dip!
The Dove Chocolate Discoveries Chocolatiers have been featured on Make Life Special with both sweet and savory dishes.  Spiced Chai Dip is a luscious dip for fruits that only has two ingredients!  Brigit Greuel, Dove Chocolatier and Team Leader contributed this YUMMY recipe!
The DCD Spiced Chai Tea can be ordered from Dove Chocolate Discoveries.  Brigit's website is:     
Brigit says that not only is this an awesome dip for fresh fruit but it is also makes a great cream filling for cookies or on top of brownies.  The possibilities are endless!
Here is a cute idea for stuffed strawberries with Spiced Chai Fruit Dip.  Remember that you can use a zip lock bag if you don't have a pastry bag to fill the strawberries.  Just snip off a small corner and you are ready to pipe the dip into the strawberries with ease.  These stuffed strawberries would be a perfect dessert served with a simple cookie or a brownie. 
Thank you Brigit !