Mediterranean Appetizer Platter
Bring some exotic flavor to the table with my Mediterranean Appetizer Platter!
Enjoy a Mediterranean Appetizer Platter either as an appetizer or a meal in itself!  I've recently featured my Hummus Recipe, Oven Roasted Garlic and Toasted Pita Bread Triangles and they are all a part of this delicious and flavor-fully exotic  appetizer tray.  The beauty of this appetizer tray is that you can vary the items with a little bit of this and a little bit of that.  If you have time, make my Hummus Recipe a few hours or days ahead of time and just have it ready to go in the refrigerator.  However, if you don't have 15 extra minutes to make the hummus, most grocery stores carry pre-made hummus.  The oven roasted garlic is optional but it really adds a great flavor to the party platter.  The oven roasted garlic takes 45 minutes in the oven and you can roast it while you are assembling the rest of the ingredients.  The rest of the ingredients are purchased at the grocery store.  
We enjoyed a Mediterranean Appetizer Platter at one of our favorite restaurants about a year ago.  Bruce and I had never had hummus before then and once we tasted the wonderful combination of flavors on the platter…I knew I had to recreate it at home.  There are a lot of variations of hummus and my recipe is fairly basic.  Hummus has been around for thousands of years and is a healthy snack.  
 My Mediterranean Platter included:
Homemade Hummus
A block of feta cheese that I cut into cubes
Oven roasted garlic
Marinated artichoke hearts
Kalamata olives ( with or without the pit) and
Roasted red peppers cut into slices.
I served the Mediterranean Appetizer Platter with toasted pita bread.  
Other options for the platter would include:
Cherry or grape tomatoes
English cucumber ( this is a seedless cucumber), cut into slices
Grape leaves ( packed in brine) These are found in the pickle section or International section of the grocery store.  Drain them and pat them dry.  Wrap one grape leaf around each chunk of feta cheese.
This Mediterranean Appetizer Platter can also be assembled ahead of time.  I like the oven roasted garlic and the pita bread to be served warm so I would bake those and add at the last minute.
Remember, "Let's Make Life Special by sharing great food with our family and friends!  Enjoy!"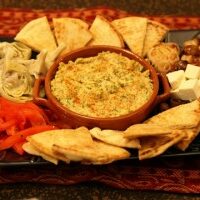 Mediterranean Appetizer Platter
Ingredients
1 cup hummus
Assorted Mediterranean olives OR Kalamata olives ( with or without the pit)
Feta cheese, cubed
Roasted garlic
Sliced roasted red peppers ( from a jar)
Marinated artichoke hearts
Other options: cherry or grape tomatoes, sliced English (seedless) cucumber, and pickled grape leaves
Instructions
Arrange the ingredients on a platter and serve with Toasted Pita Bread Triangles
Enjoy!