WBTV Features A Make Life Special Cooking Segment
WBTV Will Feature Another Make Life Special recipe on the Sunday Morning Show on June 2, 2013. 
Vickie with Make Life Special will appear on the show and make Vickie's Lemonade Pie.  She can't wait to cook in Charlotte! This recipe has been in Vickie's family for many years and is a great go-to recipe for easy entertaining.  It is cool and refreshing and perfect year around.  You can make this dessert in less than 5 minutes and it is a perfect dessert for your next gathering!  
Be sure to check out other TV appearances under the "Real Life" tab.  TV shows across the United States have featured many of the Make Life Special recipes and videos.
Pineapple Palm Tree!
Vickie has been featured several times showcasing the
Pineapple Palm Tree
 and this is a great idea for summertime entertaining!  Here you see it showcased with a fruit tray and the
Pina Colada Dip
.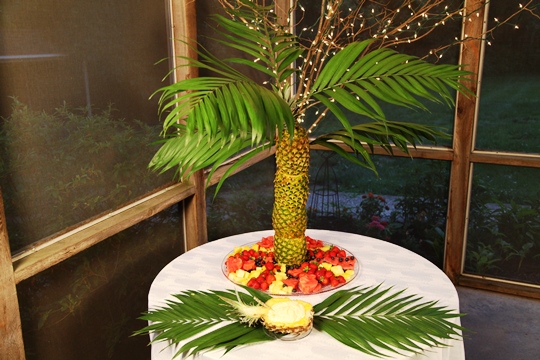 Other Media Events
Several TV programs featured the Rice Krispie Easter Egg Treats from our Make Life Special Blog.  Vickie's  Culinary Students participated in that show and it was a big hit for Easter!  We have over 90 how-to videos that feature the recipes from our blog so be sure to check those out as well!
Vickie and the team at Make Life Special are available for presentations at Women's Conferences, Workshops and TV and Radio appearances.  Just contact us for additional information and to get the complete list of programs that are available for your group event.  We can adapt any of the recipes for cooking demonstrations or hand-on workshops. Our recipes are quick and easy to make so they are perfect for busy schedules.