Cherry Cake Pudding Cobbler Recipe
Here is an easy cherry cobbler recipe that you will make again and again!  We all need easy dessert recipes that we can count on for great taste.  I always serve this with a big scoop of vanilla ice cream on top of the warm cobbler.
Cherry Cake Pudding
This cherry cobbler recipe (which I have always called Cherry Cake Pudding) is a WOW on the delicious chart!  You can have this in the oven in less than 5 minutes and your family will swoon when you serve this with a dollop of vanilla ice cream on top.  If you want to make it fancy, spoon it into a martini glass and get ready for everyone to ask for seconds!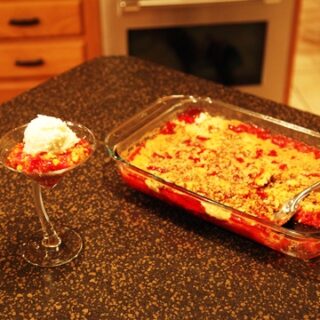 Cherry Cake Pudding
Ingredients
2 cans cherry pie filling
1 package dry white cake mix
2 sticks margarine or butter, melted
1/2 cup chopped nuts
1/2 cup coconut ( optional)
Instructions
Butter a 9 X 13 inch glass baking dish.
Spread the pie filling on the bottom of the pan.
Sprinkle the dry cake mix on top of the pie filling.
Drizzle the melted margarine over the dry cake mix.
Sprinkle the nuts ( and coconut, if using) on top.
Bake at 350 degrees for 40 minutes.
Spray or butter the baking dish.
Spread the cherry pie filling in the bottom of the dish.
Sprinkle the cake mix evenly on top of the pie filling.
Drizzle the melted butter over the top of the dry cake mix.
Sprinkle on the chopped pecans and coconut ( if using).
Cherry Cake Pudding ready to go into the oven….
Hot out of the oven…Yummy!!! 
Spoon into serving dish, top with vanilla ice cream and get ready to swoon!!
Video: Vickie's Cherry Cake Pudding
This cherry cobbler recipe is a WOW on the delicious chart! You can have this in the oven in less than 5 minutes and your family will swoon when you serve this