Creamy Apple Walnut Chicken Salad Recipe
This chicken salad recipe is a great summertime meal!
Here is a delicious chicken salad recipe that's loaded with fresh chunks of chicken that are quickly sauteed in olive oil and combined with celery,apples and a dreamy…creamy sauce made of low fat sour cream, a little lemon juice and stone ground mustard.  By using the low fat sour cream you will save on some calories and it tastes delicious too. Toss in some walnuts and you have a feast!
If you are short on time, remember that you can always use a rotisserie chicken from your local deli instead of cooking the chicken breasts.  There is nothing wrong with taking advantage of time savers here and there when cooking.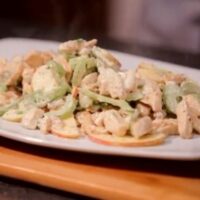 Creamy Apple Walnut Chicken Salad Recipe
Ingredients
4 boneless skinless chicken breasts ( about 1 1/4 lbs) , cut into bite sized chunks
1 Tbs Bertolli Extra Light Tasting Olive Oil
1/4 cup low fat sour cream
1 Tbs fresh lemon juice
1 teaspoon stone ground mustard
2 apples, cored and cubed in bite-sized pieces
2 ribs of celery, thinly sliced diagonally
1/2 chopped walnuts
1 tbs. chopped chives
Instructions
Season chicken with salt and pepper. Heat Bertolli Extra Light Tasting Olive Oil in skillet and cook chicken, about 10 minutes or until thoroughly cooked. Cool chicken.
Combine sour cream, mustard and lemon juice in medium bowl. Stir in chicken, apples, celery, walnuts and chives. Serve cold.
Serve, if desired, with crusty Italian bread or over salad greens.
Enjoy!
Chef Fabio Viviani shared this yummy chicken salad recipe.  Watch how easy this is to make!
And, if you live near a BJ's Wholesale club, they are offering a $ 1.00 off coupon for the Bertolli Olive Oil.  Here is the link to print your coupon:   PRINT COUPON
Remember, "Let's Make Life Special by sharing great food with our family and friends!  Enjoy!"