Crock Pot Green Beans Easy Crock Pot Recipes
Are you looking for ideas for side dishes?   How about some easy crock pot recipes?  This recipe cooks on low all day in  the crock pot and it is full of  home style goodness.
Every cook needs some easy crock pot recipes for those busy days we all have!  This Crock Pot Green Bean recipe will round out any meal and your crock pot does all of the work!  Not only does the crock pot do all of the work, but this recipe only has 5 main ingredients ( potatoes, fresh green beans, onion, ham cubes and chicken broth) so it's quick and easy to assemble and economical to make.
We are heading into fresh green bean season which means the grocery store and framers markets will have an abundance of them.  My local grocery store carries fresh green beans all year long so I try to cook fresh green at least once a week.  Easy crock pot recipes like this allow even the busiest person to cook wholesome and nutritious foods.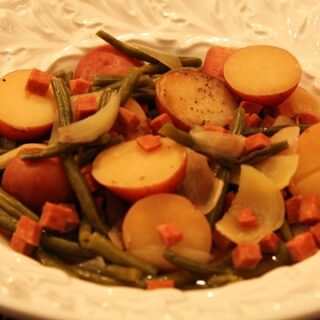 Crock Pot Green Beans
Ingredients
8 small red potatoes, scrubbed and halved
16 oz fresh green beans, washed and snapped
1 large onion, cut into eight wedges
16 oz fully cooked ham cubes
32 ounces chicken broth
salt and pepper
Instructions
Add all of the ingredients to the crock pot. Cover and cook on low 8 to 10 hours.
Clean the green beans and snip the ends.  Note:  Check out my Success Secret for How to Quickly Snip Fresh Green Beans.
Add all of the ingredients to the crock pot and cook on low for 8 to 10  hours.
Remember, " Let's Make Life Special by sharing great food with our family and friends!  Enjoy!"
Tender chunks of ham, chopped onion and fresh green beans cooked to perfection!