Demitri's Bloody Mary Seasoning Mix – Mix up a "Merry Mary" For The Holidays!
Bloody Mary's are the classic brunch drink, and are also popular for watching the game and for backyard barbeques.  Demitri's Bloody Mary Seasoning Mixes offer great convenience for making a really great tasting Bloody Mary.
We tried all four of the Demitri's Bloody Mary Seasoning Mixes as well as its two "RimShot" rimming blends.  I was really impressed with all of them! 
 Demitri's Bloody Mary Classic Seasoning Mix – This is a really rich blend of seasonings but they are not overpowering.  You can still taste the fresh tomato juice flavor.  Here is the recipe I made with the Demitri's Bloody Mary Classic Seasoning Mix and for the Holiday Season, we named it "Merry Mary's"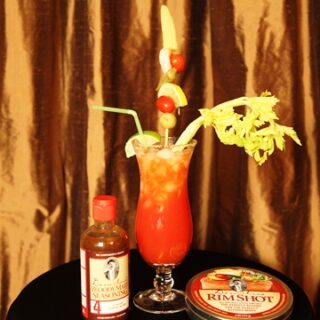 Demitri's Merry Mary's
Ingredients
2 teaspoons of Demitri's Classic Bloody Mary Seasoning Mix
8 ounces tomato juice, chilled
2 ounces quality vodka ( to make a non-alcoholic Merry Mary, just omit the vodka)
Ice
Lime Wedge
Garnishes
Instructions
Gently moisten the rim of a 12 -16 ounce glass with the lime wedge, then press into the Demitri's RimShot Rim Salt.
Combine Demitri's Bloody Mary Seasoning Mix with tomato juice, vodka and ice in a shaker and shake well.
Pour the mixture into the rimmed glass and garnish.
Enjoy!
You can watch the Make Life Special video and see how easy these are to make, just click here:  "Making Demitri's Merry Mary's"
A big part of the fun in making Bloody Mary's ( aside from drinking them!) is making the great garnishes.  You can always just stick a stalk of celery in the glass, but why not make the Bloody Mary's extra special by adding some of these garnishing ideas? 
Watch the Make Life Special how-to video and get some great ideas!  " How to Garnish Bloody Mary's "
Demitri's Chilies and Peppers – A spicy-sweet blend with mild jalapeno heat. I would say this one was a mild heat.  Very good.
Demitri's Chipotle – Habanero – There is LOTS of HEAT in this one!  If that's what you like, you will love this!  I perfer a milder taste, but I have several friends who just can't get enough heat and they will really like this.
Demitri's Bloody Mary Extra Horseradish – This one has a mild horseradish taste without all of the chunks.  
Demitri's Bloody Mary RimShot!  – Made with red and black Hawaiian sea salts, alder-smoked sea salt, celery salt, and black pepper.  I really liked this one.  The flavor was great and complemented our "Merry Mary" nicely.
Demitri's Bacon RimShot! –   made with BaconSalt ( a proprietary salt with a hickory-smoked, bacon flavor.)
There are several things that I liked about these products.  I liked the convenience of the Demitri Mixes and I also liked the flavor.  It's also easy to offer your guests a variety of Bloody Mary flavors without having to mix up a whole pitcher of each flavor.  You can make these one glass at a time or a whole pitcher at a time.  It doesn't matter, because with the Demitri's Mixes, they come out perfect every time.  That's why so many restaurants and bars use Demitri's Bloody Mary Mixes.  And, I guess that's why their slogan is " Perfect Every Time in No Time".    
Oh… and by the way.  Demitri's Bloody Mary Mix is also great for cooking.  Their website has lots of recipes to get you started.  Click here for  Demitri's Recipes .  I can't wait to try  "Robert's Bloody Good Shrimp" this weekend.  I think it will make a terrific appetizer!  You just marinate shrimp in a mixture of olive oil, Demitri's Chilies & Peppers and thread on skewers and grill.  
Note: I received samples of Demitri's Bloody Mary Seasoning Mixes and RimShot Seasonings for this review.  No compensation was received.  These are my true and honest opinions.