Very Berry Yogurt Parfait Is Sweet and Satisfying!
Try This Yogurt Parfait For a Sweet and Healthy Breakfast!
A Yogurt Parfait is a great make-ahead breakfast and provides a healthy option for busy schedules!  Everyone says that breakfast is the most important meal of the the day but I find that many people skip breakfast for a variety of reasons. "I just don't have time for breakfast" seems to top the list of excuses that I hear from my students when we discuss nutrition in my Culinary Arts classes.  However,  when you look at the health benefits of eating breakfast you quickly see how it important it is to make the effort to provide your family with options for the start of their day.
Looking For Something Sweet, Fast and Satisfying?  This Very Berry Yogurt Parfait Is Just The Dish!
A yogurt parfait is great for breakfast or brunch.  This yogurt parfait is also extremely healthy with the addition of ground flax seeds.   Here are the ingredients….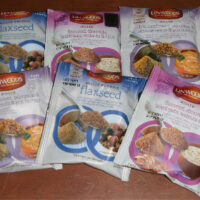 Very Berry Yogurt Parfait
Ingredients
1 cup Plain Greek Yogurt
1/2 cup sliced strawberries
1/2 cup sliced raspberries
1/2 cup sliced blackberries
1/2 cup sliced blueberries
1/2 cup granola
2 tablespoons honey
2 tablespoons Linwoods Ground Flax, Cocoa, Blueberries & Strawberries
Instructions
Layer 1/4 cup sliced strawberries, 1/4 cup sliced raspberries, 1/4 cup sliced blackberries, 1/4 cup sliced blueberries.
Add a layer of 1/2 cup yogurt and a layer of 1/4 cup granola.
Drizzle with 1 tablespoon honey and 1 tablespoon flax blend.
Repeat.
Enjoy!
Benefits of Breakfast:
There are many reasons why eating breakfast tops most "Best Nutrition Tips" lists.  Breakfast provides your body with important nutrients needed to fuel your day.  Breakfast promotes clearer thinking and higher energy levels throughout the day.  Eating breakfast also helps with weight control because it helps you avoid snacking and overeating at other meals throughout the day.
Thank you, Nicole for another great recipe!
Be sure to try our "Omelet In a Mug" for another quick and easy breakfast!