Enjoying Tea in Recipe Form
Linda Appel Lipsius, CEO and Co-founder of Teatulia, was kind enough to let me reprint some of their recipes for you all to enjoy.
The first recipe I wanted to share is Teatulia's  Earl of Bengal Cookies recipe.  Linda spoke of these in our interview.  Click here to read the interview:   A Visit in Vickie's Kitchen with Linda Appel Lipsius   I plan on making these cookies…..soon.  They sound delicious!  Linda says she loves to bake these during the holiday season.
Earl of Bengal Cookies
Recipe Type
:
Cookies,Dessert
Author:
Cook time:
Total time:
Ingredients
9 tea bags of Teatulia Earl of Bengal Tea
2 Cups all-purpose flour
1/2 cup granulated sugar
1/2 cup confectioner's sugar
1/2 teaspoon salt
1 teaspoon vanilla
1 teaspoon water
1 cup unsalted butter, softened and cut into pieces
Instructions
Grind the tea from the tea bags into a fine powder ( using a mortar and pestle works best).
Pulse together all dry ingredients in a food processor and then add the vanilla, water and butter.
Pulse together until the dough is formed. Divide the dough in half.
Place each half on a sheet of plastic wrap and roll into a 12 inch log, about 2 inches in diameter. Chill both wrapped logs for 30 minutes.
Preheat oven to 375 degrees. Unwrap dough logs ( one at a time to keep cold and hard) and slice into disks about 1/3 inch thick.
Place cookies on parchment or foil lined baking sheet about an inch apart.
Bake until edges are brown. ( 10 to 12 minutes)
Let cool for a moment and then trasfer to wire racks. Enjoy!
Next, I want to introduce you to Teatulia's spin on a Mint Julep – Teatulia's Green Tea Mint Julep.  I am a Southerner at heart.  I love the Kentucky Derby.  I love wearing a big fancy hat.  And, I love a Mint Julep.  Teatulia's version sounds amazing and I have decided that, while watching the Derby on TV this year, I will be enjoying this wonderful drink!
Green Tea Mint Julep
Author:
Here is Teatulia's spin on the classic Mint Julep! Enjoy!
Ingredients
2 ounces Teatulia green tea
1.5 ounces Stranahans Colorado whisky
Half a lemon, squeezed
1.5 ounces simple syrup
Mint
Instructions
To make the drink, start with a sugar rimmed cocktail glass.
Muddle the mint, lemon juice and sugar in the glass.
Then, add crushed ice, and pour the tea and the whiskey over the ice.
Garnish with mint and lemon.
Drink!
Lastly, I want to share their Green Tea Poached Salmon recipe.  Salmon is my favorite fish to eat,  I think this would go well with some lightly roasted asparagus.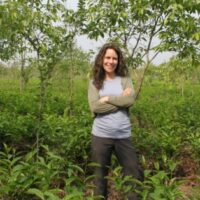 Green Tea Poached Salmon
Ingredients
4 bags Teatulia Green Tea
2 half pound salmon steaks
2 cups boiling water
5 cloves minced garlic
1 teaspoon ground ginger
1 teaspoon sesame oil
1 tablespoon olive oil
1 teaspoon salt/pepper
1/2 lemon
Instructions
Steep tea in water for 2 to 5 minutes, remove tea bags and add garlic, ginger and sesame oil to the tea.
In skillet, heat oil and once hot, add salmon steaks. If salmon still has skin, place skin side up and sear other side. Sear for 2 to 3 minutes.
Turn salmon over and add tea mixture.
Bring to a boil, reduce heat, cover and poach for 6 to 9 minutes.
Salmon should flake easily with a fork.
Once plated, squeeze lemon over salmon and sprinkle with salt and pepper. Enjoy!
So, there ya' have it.  3 recipes involving tea.  Who says tea is just for sipping?  For more Teatulia recipes, please visit their Website:  Teatulia Tea.