Fizzy Cranberry Cocktail – Easy Cocktail Recipes
Looking for some easy cocktail recipes? Here is a fun and delicious "retro-type" cranberry champagne cocktail that is so easy to make. Fizzy Cranberry Cocktail may become your new favorite holiday drink! Cranberry juice and cranberry juice cocktail are both popular cocktail mixers — especially during the holiday seasons. Some people think cranberry juice has a strong flavor but when it is paired with champagne ( or a sparkling or fizzy wine as I have done in this recipe), or with tequila, vodka or rum — it adds the perfect finishing touch to the drink.
The Cosmopolitan is probably the best known of the cranberry cocktail recipes. Everyone remembers it's popularity and rise to fame in the HBO show, Sex and the City.
I recently reviewed the Refresh Wines by Turning Leaf and discovered that the Crisp White Refresh Wine makes an excellent mixer for cocktails. It is crisp ( just like the name says) and the fizzy bubbles make your cocktails fun! Refresh Wines are also very reasonably priced and when mixed with cranberry juice or cranberry juice cocktail make an economical party drink. Just remember to use a champagne flute to make this drink really special! Champagne flutes can be purchased for less than $1.00 each at most discount stores and they really add a nice touch to a party.
To watch my how-to video, click here:
Here is my recipe for this great drink: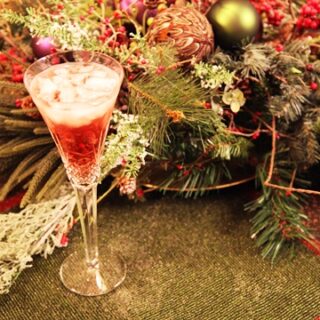 Fizzy Cranberry Cocktail
Ingredients
Crushed Ice
Refresh by Turning Leaf Crisp White Wine
Cranberry Juice Cocktail
Instructions
Place crushed ice in glass.
Fill glass 2/3 full with Refresh by Turning Leaf Crisp White Wine.
Fill last 1/3 of glass with chilled Cranberry Juice Cocktail.
Enjoy!
Video:
Fizzy Cranberry Cocktails – Easy Cocktail Recipes



Looking for easy cocktail recipes? This Fizzy Cranberry Cocktail is a fun "retro-style" cocktail that's perfect for entertaining!
Remember…."Let's make life special by sharing great food with our family and friends! Enjoy!"