Make your life special by serving this Mimosa Recipe for a leisurely weekend breakfast…or Brunch…or for a Bridal Shower!  I also love to serve these on Mother's Day for an extra special treat.    With warm weather just around the corner, I'm sure we will find lots of occasions to enjoy this festive drink!  There are several ideas below that will take your Mimosas over the top.  
You can make these wonderful drinks in less than a minute!  How easy is that!  Just remember to use ice-cold Brut (Dry) Champagne for the perfect Mimosas.  Mimosas are traditionally served in  tall champagne flutes.  Be sure to check out my money saving tips on buying champagne flutes and the wine in my Mimosa Recipe Video. I tell the story about a bridal shower I catered and I learned that you can entertain with class for not much cash!  By using my success secrets, the bridal shower was a huge success and everyone enjoyed Mimosas.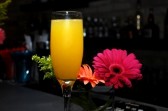 Mimosas
Ingredients
1/2 glass dry champagne
1/2 glass orange juice
Instructions
Fill champagne flute one half full with champagne.
Fill the rest of the way with orange juice.
Here are some "Make Life Special" extras that will take your Mimosas over the top!
Add a splash of Triple Sec to the mimosa

Add a whole fresh strawberry ( stem and all) to the flute before adding the champagne and orange juice

Cut a slit in a fresh whole strawberry and garnish the rim of the flute with it

Rinse and chill champagne flutes in the freezer to frost the glasses

 
Be sure to use a dry champagne
Video: Mimosa Recipe
I love to serve this Mimosa recipe for a leisurely weekend breakfast…for brunch…or for a bridal shower. Let's Make Life Special !
Remember, "Let's Make Life Special by sharing great food with our family and friends!  Enjoy!"