Nicole's Mushroom Risotto
Are you looking for an easy risotto recipe?
Nicole's Mushroom Risotto is easy and absolutely delicious!  She has been busy reviewing items for our Holiday 2012 Gift Guide.  One of the hot new items she reviewed was the Back to the Roots Gourmet Mushroom Kit.  Check out her review and see how to grow your own gourmet mushrooms!  Back to the Roots Gourmet Mushroom Kit Review  
Here is Nicole's Recipe for Mushroom Risotto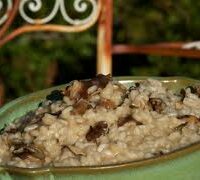 Nicole's Mushroom Rissoto
Ingredients
6 1/2 cups chicken stock OR 1/2 cup dry white wine and 6 cups chicken stock
1 tablespoon olive oil
1/2 stick ( 1/4 cup) unsalted butter
1/4 pound fresh mushrooms
2 finely chopped large shallots
1 1/2 cups Arborio rice ( 10 oz)
1 generous cup grated Parmigiano-Reggiano
Instructions
Bring stock to a simmer in a 4 quart pot and keep at a bare simmer, covered.
Heat oil with 1 tablespoon butter in a 4 to 5 quart heavy saucepan over moderately high heat until foam subsides. Then saute mushrooms, stirring occasionally, until browned and any liquid they give off is evaporated.
Cook shallots in 2 tablespoons butter in same saucepan over moderate heat, stirring, until softened.
Add rice and cook, stirring, until edges of rice becomes translucent.
Ladle in 1/2 cup of white wine and cook at a strong simmer. stirring, until absorbed. Continue simmering and add stock, about 1/2 cup at a time, stirring very frequently and letting each addition be absorbed before adding next, until rice is just tender and creamy-looking.
Remove from heat and stir in remaining tablespoon butter, sauteed mushrooms, cheese, and salt and pepper to taste.
Nicole is my oldest daughter and the mother to my awesome grandson, Teddy.  Thank you, Nicole, for sharing this terrific recipe!