SUPER Easy Bean Dip Recipe
This SUPER Easy Bean Dip Recipe is the second featured recipe from the Dove Chocolate Discoveries Chocolatiers.
This recipe showcases the Dove Chocolate Discoveries Cocoa Rub and the Dove Chocolate Discoveries Sweet 'n' Tangy Mole Sauce.  This is another example of how chocolate can be more than sweet — it can work in savory recipes as well.
This yummy appetizer was contributed by Oma Farmer, Dove Chocolate Discoveries Chocolatier and Team Leader.  "Discover a new way to experience Chocolate"
Oma Farmer, DCD Team Leader pictured above with Vickie at a recent cooking demonstration.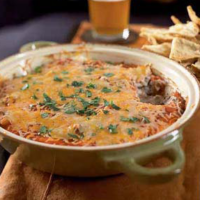 SUPER Easy Bean Dip
Ingredients
1 15 oz jar Pinto beans ( refried beans will work in a pinch)
1/2 cup sour cream
1 tablespoon Dove Chocolate Discoveries Sweet 'n' Spicy Cocoa Rub
1/2 cup Dove Chocolate Discoveries Sweet 'n' Tangy Mole Sauce
Juice of 1/2 lime
1/2 teaspoon salt
6 to 8 ounces Cheddar or Monterey Jack cheese, shredded
1 tablespoon chopped cilantro, for garnish
Instructions
Preheat oven to 400 degrees
Combine all ingredients in a food processor and blen until smooth ( approz 30 to 60 seconds)
Taste, add salt is needed.
Place in Pyrex baking dish. Top with shredded cheese and bake for 13 to 15 minutes or until cheese is melted and bubbly.
Serve with tortilla chips.
Chef's Tip: If you like your bean dip more creamy, add an additional 4 oz of cream.
The Dove Chocolate Discoveries products can be purchased online or from Oma Farmer's Website: