Get Everyone Into the Kitchen With This Easy Cheese Bread Recipe
Hot cheese bread right out of the oven will draw everyone into the kitchen!
I love to bake easy bread recipes like this Easy Cheese Bread.  This quick and easy cheese bread recipe will be a welcomed addition to any meal.  Bisquick is the main ingredient and it really simplifies making a quick bread like Easy Cheesy Bread.  It is especially good with my Italian Penne Pasta Bake.
You can have this in the oven in 5 minutes and it bakes in 25 minutes.  
Easy Cheese Bread Recipe: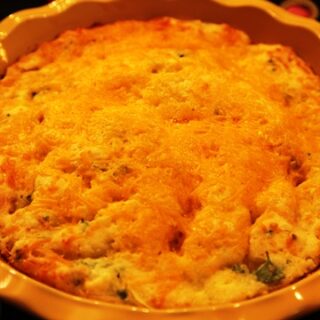 Easy Cheesy Bread
Ingredients
1/2 cup milk
1 egg, beaten
1 1/2 cups biscuit mix
2 tablespoons chopped parsley
1 tablespoon minced onion
1 cup grated sharp cheddar cheese - divided
1/4 cup margarine, melted ( I microwave the margarine in a small bowl for about 20 seconds to melt)
Instructions
Combine the egg and milk.
Add biscuit mix, chopped parsley, onion and 1/2 cup of the cheese. Stir well.
Pour into a greased 8 or 9 inch cake pan.
Sprinkle with the rest of the cheese and pour the melted butter over all.
Bake at 350 degrees for 25 minutes. Turn out onto a serving plate and cut into wedges...or serve right from the baking dish.
Ingredients:  Bisquick, Sharp cheddar cheese, 1/2 cup milk, 1 egg, chopped fresh parsley and a little minced onion and melted margarine…
Combine egg and milk…
Add remaining ingredients and stir.  Note:  You may want to check out my success secret for chopping fresh herbs:  How to Chop Fresh Herbs
Pour into pan and top with remaining shredded cheddar cheese.
Pour melted butter over the bread
Easy Cheesy Bread….Ready for the oven!
Here it is!  Hot out of the oven!  You can turn this out of the pan onto a serving platter and cut it into wedges to serve.  
Remember, "Let's Make Life Special by sharing great food with our family and friends!  Enjoy!"