Here is a terrific variation of my Pineapple Palm Tree Centerpiece Idea!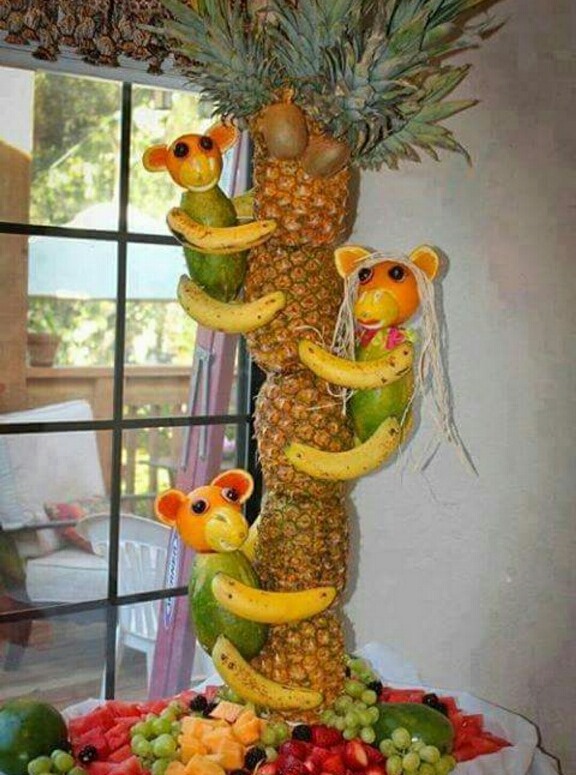 I'm always looking for creative new centerpiece ideas to "Make Life Special"!  This Monkey Pineapple Palm Tree would be a great centerpiece for a luau or even a kid's party!  I loved this idea from http://www.glorioustreats.com/2012/08/pineapple-tree-centerpiece-with-fruit-monkeys.html. You can watch my YouTube Video and see just how easy a Pineapple Palm Tree is to make:  Pineapple Palm Tree Ideas .
Here are some tips to remember when making the Pineapple Palm Tree:
Don't try to do this ahead of time.  Once a pineapple is cut, it will become mushy when you refrigerate it.  This is easy to make so just plan on making it about an hour or two ahead of the party and let it sit out at room temperature.
Build the Pineapple Palm Tree Centerpiece on a tray that can catch all of the juice that will drain out of the pineapples.
Look for pineapples on sale – there are some great prices on pineapples this time of year and this is an inexpensive entertaining idea.
Fresh pineapples can be stored in the refrigerator for 2 to 4 days.
Pineapple is low in calories, has no fat and is an excellent source of Vitamin C.
Any extra pineapple you have after making the fruit centerpiece can be cut into bite-sized pieces and used on your fruit tray.
If you have a "green thumb" you may want to grow your own pineapple plant.  It's easy to do and makes a great houseplant!  You just twist the leafy crown off of the pineapple, let it dry for about a week and then plant it in a pot. You will have several leafy crown left over when you make the Pineapple Palm Tree so this would be a great use for them. after they are growing, they would make great hostess gifts!