Joan's Butternut Squash Soup Recipe
Butternut Squash Soup Recipe From Joan Lunden! 
Joan Lunden shares her Butternut Squash Recipe with Make Life Special readers!  
I just interviewed Joan Lunden about her new cookware, Twiztt  and I think she is really an amazing person.  As you know, Joan Lunden hosted ABC's Good Morning America for nearly two decades which made her the longest running host on early morning TV ever.  She is the mom of 7 ( including two sets of twins, ages 7 & 9),  a caregiver to her elderly mom, and a businesswoman and entrepreneur.  She really does know how to juggle it all!  She also shared several great tips for entertaining with us .  Joan loves to make this Butternut Squash Soup Recipe.
 Here is the Butternut Squash Soup Recipe!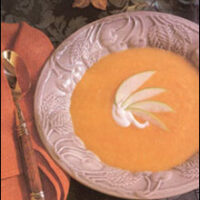 Joan's Butternut Squash Soup
This delicious soup has 85 calories per 1 cup serving
Ingredients
1 medium butternut squash (about 2 1/4 pounds)
Nonstick vegetable oil spray
1 medium onion, chopped (about 1 cup)
1 tablespoon freshly grated ginger, optional
1 tablespoon unsalted butter
3 cups chicken broth OR canned reduced-sodium chicken broth
1 to 2 cups water, as needed
Salt and pepper to taste
Low fat or nonfat sour cream and apple slices for garnish, optional
Instructions
Preheat the oven to 400 degrees.
Cut the squash in half lengthwise, and scoop out and discard the seeds. Arrange the halves cut side down in a roasting pan that has been sprayed with the nonstick vegetable spray. Bake the squash in the oven for 40 to 45 minutes or until it is very tender. Set aside to cool.
When the squash is completely cool, scoop the flesh from the skin.
White the squash is baking, cook the onion and the ginger (if using) in the butter in a saucepan, over moderately low heat, for 5 minutes or until the onion is softened. Add the chicken broth and simmer the mixture for 10 minutes, covered. Add the squash pulp to the saucepan.
Transfer the mixture to a blender or a food processor, in batches, and puree until smooth. Add enough water to achieve the desired consistency, and salt and pepper to taste. Return the soup to the saucepan and cook it over moderate heat until it is hot.
Garnish each portion with a heaping teaspoon of low-fat sour cream and a few apple slices, if desired.
 

Be sure to check out Joan Lunden's website for lots of great tips and recipes!