Eggnog Alexander Holiday Drink Recipes
Every busy hostess needs holiday drink recipes!
Looking for some holiday drink recipes?
Eggnog Alexanders are perfect for holiday entertaining or just relaxing by the fire.  This drink recipe only has THREE ingredients and with a quick whirl in the blender you will be serving up a creamy dreamy eggnog drink in no time.
I used purchased eggnog for this recipe.  Eggnog or egg nog (either is correct) is a sweetened dairy-based drink that is traditionally made with milk or cream, sugar and whipped eggs.  The whipped eggs give the eggnog it's frothy texture.  Vanilla is also a common flavoring.  Liquors such as Brandy, rum,whisky,bourbon or vodka are often added to the eggnog.  I add Bourbon to my Eggnog Alexanders for a festive drink.  However, if you do not want an alcoholic drink, feel free to omit the Brandy.  Just mix the eggnog and ice cream in the blender and top with a sprinkling of ground nutmeg and you will have a wonderful holiday drink!
The typical garnish for eggnog or eggnog recipes such as the Eggnog Alexander is a sprinkling of ground cinnamon or ground nutmeg.
Regular eggnog is high in fat and high in cholesterol but there are low-fat varieties available on the market.   
Great Holiday Drink Recipes Eggnog Alexanders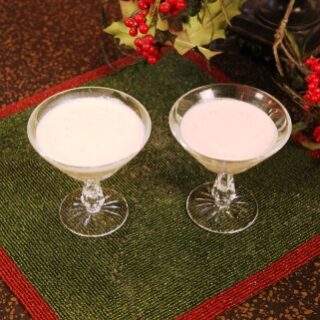 Egg Nog Alexander
Ingredients
1/4 cup egg nog
1/4 cup Brandy
1 pint vanilla ice cream
Instructions
Put the ingredients in a blender and blend until smooth.
Pour into serving glasses and top with a big dollop of whipped cream if desired.
Enjoy!
Make Life Special is all about easy and creative recipes for BUSY people.  These recipes are designed to help you gather your family and friends in your home to make special memories again.  Please don't think that you are ever too busy to enjoy life..or to enjoy your family and friends.  The holidays are the perfect time to share your home with others.    
Remember, "Let's make life special by sharing great food with our family and friends!"