Make Homemade Croutons In the Skillet!
Homemade Croutons Are a "WOW!" on Salads and Soups!
Once you taste homemade croutons, you will never use store bought croutons again! Store bought croutons are usually hard and dry and typically have very little flavor.  That being said, these Homemade Croutons are crisp,  crunchy, garlicky, salty croutons that are great sprinkled on top of salads or soups.  For years, I made my croutons in the oven.  (I'll share that recipe with you in a later post).  However, if you are in a hurry – or don't want to heat up your kitchen with the oven – just make the croutons in the skillet.
What Type of Bread Should You Use For Homemade Croutons?
Croutons are the perfect use for day-old bread, but you can use fresh bread too.  I like to use Sourdough bread or any other crusty bread like French bread or Ciabatta bread.  Feel free to experiment with different types of bread and different seasonings.  These homemade croutons will keep a day or so in a zip lock bag at room temperature so feel free to make extra.  However, these are so delicious, I doubt there will be any left-over!
I had some Ezekiel 4:9 Bread on hand  and it made delicious homemade croutons!  I am also making homemade creamy tomato soup and these will be so good sprinkled on top of the soup.
Homemade Crouton Recipe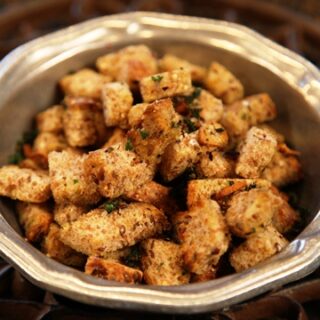 Skillet Croutons
Ingredients
2 to 4 slices of stale bread cut into 1 inch cubes. ( I use my kitchen scissors to quickly cut the bread into cubes. If you are using a bread that has seeds on the crust then leave the crust on. )
1 or 2 cloves of chopped garlic
Any combination of fresh herbs you want to use: parsley, basil, oregano or rosemary would all be nice options.
Sea salt and a few grinds of black pepper
4 to 5 teaspoons olive oil
Instructions
Cut 2 to 4 slice of stale bread into 1 inch cubes using kitchen scissors.
Chop up 1 or 2 cloves of garlic.
Chop up whatever fresh herbs you have on hand. ( be sure to check out my success secret for the quick way to chop fresh herbs)
Add a couple of teaspoons of olive oil to a skillet and saute the garlic until tender.
Add the herbs and a generous amount of sea salt and a few grinds of black pepper and the bread cubes.
Toss well to coat and saute until the croutons are golden on all sides - about 5 minutes.
 

Ingredients
Saute ingredients in a skillet. ( I LOVE my new TWIZTT skillet )
These definitely make a salad or bowl of soup special and help turn it into a real meal.  
Sprinkle these Homemade Croutons on One of These Make Life Special Soups!
Remember, let's make life special by sharing great food with our family and friends!  Enjoy!