Let's Make Chunky Beef Stew in The Crock Pot!
Savory Chunky Beef Stew for a Winter's Night!

My Chunky Beef Stew goes together in a snap and your crock pot does the rest of the work!  This stew is full of hearty beef chunks, bacon, potatoes, baby carrots, whole pearl onions and mushrooms and cooks up in a tomato and brown gravy sauce.  This is sure to warm you up on a cold winter day!  
Homemade Bread Bowls!
Here, I've served Chunky Beef Stew in my "Homemade" Bread Bowls that are made with frozen bread dough.  Check out that recipe too!
Chunky Beef Stew Recipe: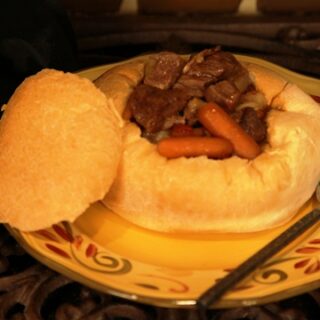 Chunky Beef Stew in the Crock Pot
Total Time:
8 hours
10 minutes
Ingredients
2 pounds beef stew meat
4 bacon slices, cut in 1 inch pieces
2 12 oz jars brown gravy
14.5 oz can diced peeled tomatoes with the juice
1 teaspoon dried thyme leaves
1/2 teaspoon salt and 1/4 teaspoon black pepper
1 pound fresh whole baby carrots
8 new red potatoes, quartered
10 oz bag pearl onions OR 2 small onions, cut into eights
8 oz whole fresh mushrooms
1 cup red wine ( optional - but I always add it)
Instructions
In medium skillet, cook the bacon ( I use kitchen scissors to cut it up quickly) and the beef stew meat until browned. Do not drain.
Combine the beef stew meat, bacon and liquid in the crock pot along with the rest of the ingredients.
Cook on low for 8 to 10 hours.
Ingredients..( The only thing I added was the optional 1 cup of red wine because I really like the depth of flavor the wine adds to this stew)
Success Secret:  Use kitchen scissors to easily cut the meat into pieces!
Use kitchen scissors to cut the bacon into pieces and then brown the bacon and stew meat in a skillet.
Add the browned meat along with the liquid from the skillet to a sprayed crock pot and add the remaining ingredients.  Note:  If you are using the pearl onions, boil them separately for about 3 minutes, cut off the ends and the skins should slide right off.  The other option is to use 2 small onions and cut them into eights , however I really like the look of the pearl onions best.
Now just set the crock pot on low and let it simmer away for 8 to 10 hours.  You won't believe the aroma that will fill your kitchen as this stew cooks!  If you don't have 8 to 10 hours to let this cook on low…no worries!  You can let it cook on high for 3 hours and then turn it to low for another 3 hours and that will work just fine.  
Here you see the finished beef stew in the crock pot…
I made my EASY "Homemade" Bread Bowls to serve this stew in.   
Try this crock pot recipe too!
Vickie's Mom's Sunday Pot Roast Dinner
Remember….Let's make life special by sharing great food with our family and friends!  Enjoy!