Check Out The New Joan Lunden Twiztt Cookware Set
Check out the New Joan Lunden Twiztt Cookware Set!
Joan Lunden Twiztt cookware has many great features.  Here is our Make Life Special interview with Joan Lunden about this great cookware set!
 Buying pots and pans is a big decision for most home cooks.  Joan Lunden has just come out with a new line of non stick cookware called Twiztt.  Joan Lunden shared all of the info about this great cookware set in the following interview:  
I have always admired  Joan Lunden.  We are both  "working moms" and we started our careers about the same time.  Joan's career was much more public than mine and I watched her on "Good Morning America" every morning as I was whizzing around getting ready for work.  She always seemed liked someone I could be friends with – share common stories, talk about our families, etc.
Well, when I received the call to interview Joan Lunden, I immediately said "Yes!".
My expectations of Joan Lunden – both the public figure we all know, and the private person with a family – were confirmed when I interviewed her.  She is a "real" person.  She is very "down-to-earth".  I loved chatting with her…We talked so much that I am actually doing four different posts from our interview.
The first post covers her new venture – a line of healthy non-stick cookware called Twiztt.  I reviewed the cookware a few weeks ago:  Twiztt Cookware by Joan Lunden
Vickie Interviews Joan Lunden
I talked  to  Joan about her new line of cookware called Twiztt and I am sharing that with you in this post.  I also wanted to ask her about juggling family (she has 7 kids) with a busy work schedule.  I also wanted to find out if my impression of Joan Lunden was accurate – that she really is a very nice person who cares deeply about her family.   I started off with my questions about her cookware line:
Vickie:  Here at Make Life Special, I focus on getting people back into the kitchen to cook and getting families and friends back around the table – sharing great food.  I love the new Twiztt cookware.  Can you share some of the features that make it so convenient to use?
Joan:    Well first of all, I'll just tell you all about the cookware because I'm really excited about this.  Every single piece in the line does have a new twist…..It is cookware with a new twist.  Pots and pans have basically been the same for decades.  This cookware company out of Belgium came to me because they were looking for a real health advocate, a woman's advocate, a family advocate, and someone who Americans would turn to for reliable information.  …That's why they brought me on board.
Features:
One of the best features of the cookware is that we use a ceramic, non-toxic, non-stick surface.  When non-stick cookware was introduced into this country back in the 60's, it was wonderful as far as the convenience.  Americans loved it!  Things didn't stick, it was easy clean-up…and then later on when we all became health conscience, we turned to the non-stick cookware because we didn't have to use as much butter or oil.  The problem is, al that old non-stick cookware is made with toxic chemicals.  We have known this for a long time, but frankly, I think most of us just looked the other way. We really liked the convenience and ther was no alternative on the market.  It has really taken the industry a long time to come up with a healthy alternative.
But, we do have it now.  The ceramic surface is NOT toxic.  To give people a little background about why they need to go into their kitchens and open up their cabinets and if they have that old non-stick cookware….its turned brown …you've got to throw it away.  Because, the stuff that they made those pans with is a toxic chemical that really can't stand to be heated too much.  Isn't that ironic because that what you do with a pan?  If you heat it up more than 450 to 500 degrees,  it starts to melt down , it decomposes,  and it lets off toxic fumes.  ( Which by the way can kill a small bird —that's how toxic they are, if you have a small bird in your kitchen)
They let off toxic fumes that also affect us.  People will walk around all day with flu like symptoms, nauseous, chills and a headache and they write it off to – you know, I must have picked up a bug.  But no, its from cooking on those old non-stick pots and pans!  ….These chemicals are so pervasive in America because we have cooked on this non-stick cookware that they say 95% of Americans have it in their system.  …and all newborn babies are born with it….And I just don't know if Americans realize in their heart of hearts how much they need to throw this stuff away.
But, now there is a choice.  The Twiztt cookware has a ceramic surface that is a light creamy color…and its really pretty to cook on that surface.  We also wanted to discern ourselves from everyone else.  I have a very high regard for the American consumer.  When they are told a product is not safe, they just make the choice not to buy it anymore.  The American consumer takes the bad product off the market.  And I think that whats going to happen with this.  The EPA has been wrestling with this for years and years and years  but I think it will be the American consumer  who will walk in and they will see that creamy white non stick surface and everyone else is a black or dark grey because they know good and well its going to burn and the consumer will make the choice.  I think within the next 5 to 10 years, we won't have any of that old non-stick on the market.
But it's more than just the non-stick surface that makes the Twiztt great.  When you see all of the pieces of the cookware,  Vickie, it just makes cookware a little smarter.  The saucepans and casseroles have little measurement markers on them on the inside so you don't have to go get a measuring cup.  The lids are locking lids so you can take a pot with one hand over to the sink and drain it and you don't have all the spaghetti fall out!  And how many of us have done that!
Vickie:  Well, let me tell you… I am checking out Amazon.com this afternoon to see the full line.  When I did the review, I received a sample Twiztt pan…and it is beautiful.  I will say that I love that pearly white cream colored coating.  And,  for me… and I think for most cooks, until now we did not have any options.  It was either the old non stick or go back to stainless without a coating on it.
What's Different About The Loan Lunden
Twiztt Cookware?
Joan:  And you will see the difference, Vickie, when you go to the store.  In addition to the ivory coating, the one thing that completely sets us apart for everybody else is that we just don't sell you a sauce pot with a lid  or a casserole with a lid.  We also include in with that melamine bowls – each one comes with a melamine bowl.  And the beauty of this is that first of all, they are very multi-purpose.  You can stir up a recipe in them and  you can serve in them .  Most importantly, what they allow you to do is take the hot pot right off the stove which you would never go over and set that on your table.  But you can drop it down into the melamine bowl that it is sold with and it actually rest right on a little lip that is on top and there is actually a little bit of air in between the pot and the bowl which keeps the food hot.  You don't have to get out another serving dish and transfer the food — because that's one more dish to wash –and that makes a difference.  It can go right on the table.  People can push it from person to person and not get burned ….And, it will keep the food hot for up to 2 hours!
And I think that is important in the landscape of what families are like today.  We don't all come home and the same time and sit down to dinner.  Family members are coming home all night long at different times —-from soccer, from  cheer leading practice ,so that's why a meal has to kind of "stay" over the course of and hour or two.
So, I think all of these things will make the cooking process a little bit easier,  a little bit faster,  a little bit safer… and hopefully, a little bit more fun….So we can get people back into the kitchen.  We need to do that.  As families, we need to do that.  We need to do that so we can insure that we are feeding our children safe and healthy food.  I think its been proven time after time in studies that you will eat a more healthy calories conscious meal if you cook at home than if you go out to dinner.
Vickie:  Really, I think we have just been in a vicious circle….Look at obesity.  Our national statistics on obesity are horrible.  And it all works together.
Joan:  Yes, and we just have to continually get that word out.  And provide easy to make recipes  and in my case, provide an easy to cook on product line.  Women don't want it to be hard.  They don't want to be at the kitchen sink scrubbing the rest of the night.  Nobody likes that!  But it's so important to get the family to be back home and to get used to being at home.
Part 2 of this interview will features Joan's tips for easy entertaining at home.
Where to buy Twiztt Cookware
Twiztt Cookware is available at Amazon.com.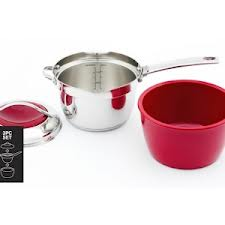 Be sure to check out Joan Lunden's website for lots of great tips and recipes  for healthy living: