Collagen Sport Complex Review
Collagen Sport Complex
Gift Guide Age Recommendation:­  18+
            First, I love that there are 30 grams of protein in one serving.  I also love that Collagen Sport Complex is gluten, wheat, sugar and lactose free.  No artificial sweeteners or flavors and no fillers or synthetic ingredients.  Collagen Sport Complex is rich in branched chain amino acids (BCAAs), exogenous amino acids, L-Glutamine and has been fortified with multi-vitamins.  Basically, this protein supplement is really good for you. 
            To read the full benefits, which are too lengthy to get into here, please visit their Product Page.        
            I've been using Collagen Sport Complex for two weeks.  During this time, I have been exercising about 6 hours a week.  I have been quite surprised with how quickly I have recovered from my workouts.  Normally, I am feeling my workouts for days.  I'm sore, cranky because I am sore, and not motivated to do my next workout because I don't want to get sorer.  These past two weeks I have felt my workouts.  The next day, I can definitely tell that I worked out.  BUT, I have felt awesome and ready to attack my next workout.  This is a great feeling! 
            Now, I'm sure some of you are wondering how it tastes.  This tastes better than any other protein shake I have tried (and I have tried several).  It dissolves easily.  There is no chalky aftertaste.  I've used the Collagen Sport Complex by itself with a cup of almond milk (I used a blender ball) and I have used it to make protein smoothies (I used an actual blender).  This is very tasty and a great way to get protein in your diet.  But, I wouldn't recommend that you let it sit out very long.  It starts to taste a little wonky after a bit (just like every protein shake I have ever made).
            Here is my simple fruit protein smoothie recipe!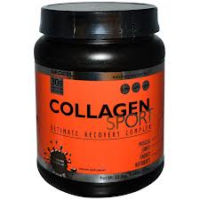 Protein Fruit Smoothie
Ingredients
1 cup frozen fruit ( I like raspberries and mango)
1 cup almond milk
1 scoop Collagen Sport Complex
Instructions
Blend and enjoy!
            I would recommend Collagen Sport Complex for any workout enthusiast or athlete.  Also, anyone trying to build muscle or lose weight would benefit from using Collagen Sport Complex. 
 Where to Buy
            Priced at $29.95 for 15 servings or $49.95 for 30 servings, you can purchase Collagen Sport Complex in French Vanilla or Belgian Chocolate at their Website:
You can also place an order via telephone by contacting their customer service toll free at 800-346-2922.
For those who love the convenience of Amazon (and the savings), you can purchase the Belgian Chocolate Collagen Sport Complex Here:   Amazon.com      
Reviewed by: Nicole
Note:  I received a  15 serving container of Collagen Sport Complex in French Vanilla to sample for this review.  No other compensation was received.  The review in this post is honest and my own.