Linwoods for Healthy Holiday Entertaining
Linwoods Health Foods
Gift Guide Age Recommendation:­  16+
Review
            I could probably write several pages on the health benefits of the line of Linwoods Health Foods.  Depending on which variety you choose, these super foods can help you increase your intake of Omega 3, Omega 6, Omega 9, Dietary Fiber, Antioxidants, Iron, Zinc, Protein, Magnesium, B Vitamins and Co-Enzyme Q10.  And, you only have to incorporate 4 tablespoons into your daily diet! 
            For the past 6 years I have tried to incorporate flaxseeds into my diet.  I found the quality of this product to be quite excellent.  I really liked their flax blends.  The flax seed, almond, brazil nut, walnut & Q10 blend was a wonderful addition to my salads at lunch.  The flax seed, cocoa, strawberries and blueberries blend was fantastic on a yogurt parfait.  Their other blends, or the plain flax seeds, can be added to soups, salads, yogurt, cold cereal, hot cereal, smoothies, etc.  I found that I could easily add 1-2 tablespoons to each meal. 
Here is a picture of my yogurt parfait & my  Very Berry Parfait recipe:
Very Berry Yogurt Parfait
Author:
Ingredients
1 cup Plain Greek Yogurt
1/2 cup sliced strawberries
1/2 cup sliced raspberries
1/2 cup sliced blackberries
1/2 cup sliced blueberries
1/2 cup granola
2 tablespoons honey
2 tablespoons Linwoods Ground Flax, Cocoa, Blueberries & Strawberries
Instructions
Layer 1/4 cup sliced strawberries, 1/4 cup sliced raspberries, 1/4 cup sliced blackberries, 1/4 cup sliced blueberries.
Add a layer of 1/2 cup yogurt and a layer of 1/4 cup granola.
Drizzle with 1 tablespoon honey and 1 tablespoon flax blend.
Repeat.
Enjoy!
And, here is how I used my favorite salad with the regular flax … the recipe is here.
Feta and Walnut Salad with Grilled Chicken
Author:
Ingredients
2 to 4 handfuls of Spring Mix Salad
2 handfuls of feta cheese
1 handful of caramelized walnuts
1 tablespoon Flax
1 chicken breast, grilled and sliced
2 to 4 tablespoons of Cherry Vinaigrette ( store bought)
Instructions
Layer Spring Mix, feta, flax and walnuts.
Top with chicken.
Serve with Cherry Vinaigrette on the side.
And here is my EASY recipe for Caramelized Walnuts……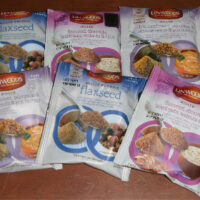 Caramelized Walnuts
Ingredients
1 1/2 cups Walnut pieces
1/2 cup light brown sugar ( not packed)
3 tablespoons light corn syrup
3 tablespoons butter
Optional: 1 teaspoon salt OR 1/2 teaspoon cinnamon sprinkled on finished nuts
Instructions
Place brown sugar, corn syrup and butter in a small skillet ( preferable non-stick as this gets very sticky).
Heat ingredients over medium to medium-high heat. Stir until bubbly.
Add walnuts to mixture and stir to coat.
Continue cooking 5 to 7 minutes, stirring constantly.
They are done when golden brown in color and smell very toasty.
These will burn if left unattended.
            I also sampled their hemp.  I've never had it before.  It kind of reminded me of a pine nut or a strong walnut.  Very nutty, very earthy and very tasty if you pair it right.  Sprinkling a bit on your hummus or adding a tablespoon to your rice dishes is an easy way to incorporate this super food into your routine. 
            I would recommend this for the health enthusiast in your life.  The marathon runner, the hiker, the yoga lover and anyone who is generally health conscious would enjoy this product.  You could also pair these with some granolas, organic cereals, health bars and nut mixes as a lovely care package for those busy college students or young professionals in your life. 
            For more information, please check out their Webpage  and/or  Facebook !
Where to Buy
            The prices range from $9.59 to $15.67 per standard size bag.  You can shop their entire selection on their Website.   
            For those who love the convenience of Amazon, you can purchase yours Here!   
 Reviewed by: Nicole
Note:  I received  one sample size bag for each of their 6 products.  No other compensation was received.  The review in this post is honest and my own.