Success Secret: How to Make Candied Pecans
Candied Pecans…Sweet, Salty, Savory!
Caramelized Pecans  or candied pecans are fantastic sprinkled in salads!  They really take the salad to a new level.  Candied pecans are also good tossed into yogurt, or in your cereal.  They are great for snacking too!    You can make candied pecans ahead of time and store in a tightly covered jar…then just sprinkle them on a salad for a real treat!  
Caramelizing nuts may sound like it would be hard to do…but it's actually surprisingly easy.  Once you get the technique down, you can caramelize other nuts too.  Walnuts and almonds are great candied and can be used the same way as candied pecans.  Candied pecans are made with pecans, light brown sugar, corn syrup and butter.  Some recipes are baked in the oven but this easy version is cooked on top of the stove in just 7 minutes. 
Here is the easy way to make them: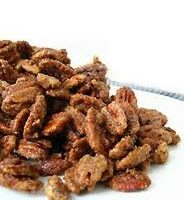 Success Secret: How to Caramelize Nuts
Ingredients
1 1/2 cups pecans or walnuts
1/2 cup light brown sugar
3 tablespoons corn syrup
3 tablespoons butter
Optional: 1 teaspoon salt OR 1/2 teaspoon cinnamon sprinkled on finished nuts
Instructions
Place brown sugar, corn syrup and butter in a small skillet ( preferably non stick as this gets sticky). Heat ingredients over medium to medium-high heat. Stir until bubbly.
Add nuts to mixture and stir to coat. Continue cooking for 5 to 7 minutes, stirring constantly.
They are done when golden brown in color and smell very toasty.
These will burn if left unattended.
Candied pecans are also great for gift giving during the holidays.  They make excellent hostess gifts so make a big batch and keep some on hand for last minute gift giving.  
Thank you, Nicole,  for this great recipe!    
Remember, "Let's Make Life Special" by sharing great food with our family and friends!  Enjoy!"