Great recipe for entertaining!  Fast, easy and tastes wonderful!  No one believes it was prepared in a crock pot.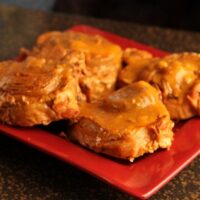 Cooker Chops
Ingredients
Four 1 1/2 inch thick pork chops ( loin chops with the bone in)
1 can Cream of Mushroom soup
1/4 cup ketchup
2 teaspoon Worcestershire sauce
1 onion, cut into 4 slices
Wondra Instant flour
Instructions
Spray crock pot with Pam. Put chops in the crock pot and lay a sliced onion on each chop.
Combine the Cream of Mushroom soup, ketchup, and Worcestershire sauce and whisk together.
Pour the mixture over the chops.
Cover with the lid and cook on low for 8 to 10 hours.
Remove chops. Thicken sauce with the Wondra flour.
Ladle sauce over the chops.
To view the complete video recipe, click here:  http://youtu.be/jax2APUx7PM 
Spray the crock pot with Pam and put the pork chops in the crock pot.  Place an onion slice on each pork chop.
Combine the cream of mushroom soup, ketchup and Worcestershire sauce.  Whisk together.
Pour mixture over chops and cover with the lid.  Cook on low for 8 to 10 hours.
Remove chops to a warm serving platter.  Thicken the sauce with Wondra Instant Flour.  Use a whisk to combine the flour into the sauce.  Ladle the sauce over the pork chops.
Lets make life special by sharing great food with our family and friends!  Enjoy!
To download the printable recipe with how-to photos, click here:  Cooker Chops