It's a Flash in the Pan…Roasted Salmon and Succotash
Roasted Salmon and Succotash is a one pan wonder!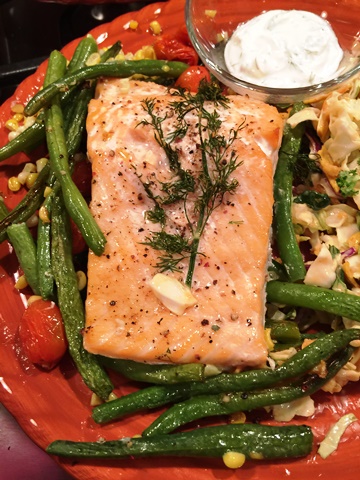 Make Life Special is all about cooking great food for your family and friends while using recipes that are quick, delicious and easy.  Sheet pan dinners are just the ticket!  This Roasted Salmon recipe is fuss free cooking at it's best.   I don't know what took me so long to discover this simple method of cooking but now I'm grabbing my sheet pan almost every day to roast something!  I like to roast a sheet pan full of fresh vegetables every night.  Roasting is a healthy way to cook and the vegetables develop a delicious caramelization that would satisfy even the most picky palate.   Sheet pan cooking allows you to cook your main dish and your side dish both at the same time and in the same pan.  Clean up is a breeze too because you line the sheet pan with aluminum foil before assembling the recipe.  Easy…breezy!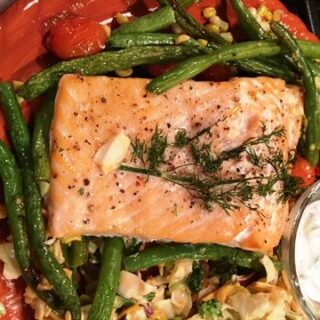 Roasted Salmon and Succotash Sheet Pan Dinner
Cook your main dish and your side dish in one pan in under 30 minutes!
Ingredients
1/2 pound fresh green beans
1 ear fresh corn, kernels cut from the cob
6 oz. cherry tomatoes
2 tablespoons olive oil
1 pound fresh salmon fillet
1/4 cup sour cream
2 tablespoons fresh dill, roughly chopped PLUS two sprigs of fresh dill to top the salmon fillets
Instructions
Preheat the oven to 425 degrees.
Line a baking sheet with aluminum foil.
Toss the green beans, corn and tomatoes with the olive oil and arrange on the pan in a single layer.
Place the salmon in the center, skin side down; season with salt and pepper. Place a spring of fresh dill on top of each fillet.
Roast until the vegetables are tender and browned in spots and the salmon is just opaque in the center, about 20 minutes.
Meanwhile, in a small bowl, mix the sour cream and 1 tablespoon of the dill; season with salt and pepper.
Sprinkle the salmon with the remaining dill and serve with the sauce.
Enjoy!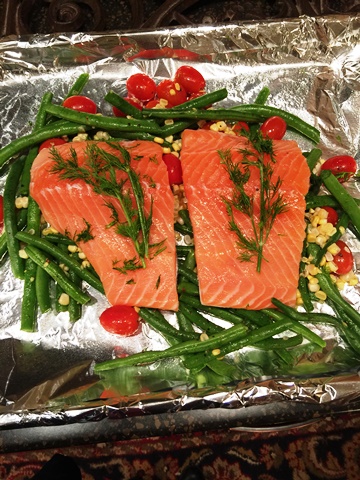 Variation:
Feel free to substitute other vegetables  in this recipe.  You might try baby carrots with fingerling potatoes or broccoli florets with cherry tomatoes.  Vary the vegetables to suit your taste buds!
Dill Sauce for the Roasted Salmon!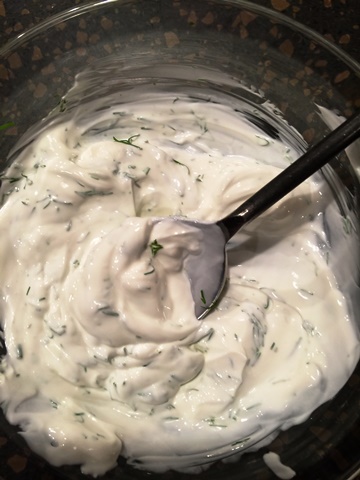 This sauce only has 2 ingredients but it adds balance to this dish.
You can make the dill sauce ahead of time.  It will keep for a couple of days in the refrigerator.
Health Benefits
Don't forget that salmon is incredibly healthy; in fact it is loaded with nutrients and is considered a "SuperFood". Salmon is high in protein and is a great source for omega-3 fatty acids.   Check out these 11 Impressive Health Benefits!
Remember….lets make life special by sharing great food with our family and friends!  Enjoy!