Fresh Strawberry Dessert Flower Is Sure to Please!
Dazzle your friends and family with a Fresh Strawberry Dessert Flower!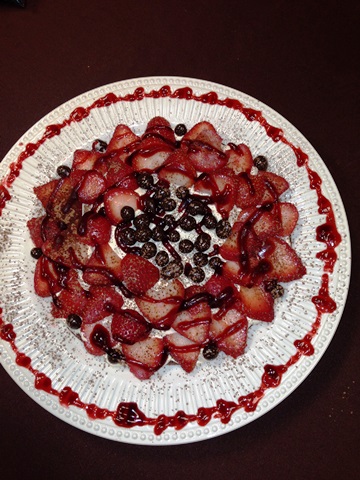 I love to celebrate strawberry season by making strawberry desserts as often as I can!  I still like to go to Strawberry Farms every May and pick my own berries. However, even after the strawberry season has passed in Illinois, we can still find an abundance of beautiful, juicy berries in our local grocery stores and farmer's markets.  Whether you serve my Fresh Sugared Strawberries, my Best Ever Strawberry Shortcake or create this Fresh Strawberry Dessert Flower… you will not be disappointed!  This Fresh Strawberry Dessert Flower is impressive enough for company but is super simple to make.  It starts with a creamy and sweet base made of just three ingredients and then the "flower" is assembled on top of the base.  I like to add some fresh blueberries for color and then top it off with my Easy Strawberry Sauce.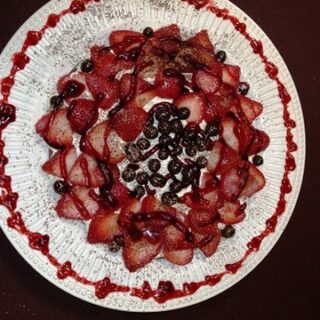 Fresh Strawberry Dessert Flower
Ingredients
Base:
8 oz. cream cheese
7 oz. marshmallow topping
1 Tbs. mayonnaise
Strawberry Flower:
Fresh Strawberries, cut in half
Fresh blueberries
Instructions
Using an electric mixer, beat together the cream cheese, marshmallow cream and mayonnaise.
Mound the cream cheese mixture onto the center of a serving plate.
Slice the strawberries in half as shown in the picture, from the tip of the berry to the stem.
Beginning on the outside edge to the cream cheese mound, place the strawberries around the outside edge of the mound.
Continue placing the strawberries around the circle to resemble petals. Leave a small circle in the center open and sprinkle fresh blueberries in the center.
Sprinkle additional fresh blueberries over the petals.
Drizzle the Easy Strawberry Sauce over the Strawberry Flower.
If desired, decorate the outside edge of the plate by making dots with the Strawberry Sauce and connecting the dots using a toothpick.




If you have any of the cream cheese mixture leftover, you can use it as a yummy dip for any fresh fruit. The Strawberry Sauce is also great served on pancakes, waffles, crepes or on top of ice cream.  You can also use it to make Strawberry Milk.
On the fun side of things, I often have trivia questions in my Culinary Arts classes.  One of the trivia questions I ask is, "What fruit wears it's seeds on the outside?".  The answer is "Strawberries!"  Here are some more Strawberry Fun Facts!
If you want to check out some other great desserts, my friends at Positive Health Wellness have posted   "9 Cheap and Healthy Desserts For Your Family" that includes recipes such as Chocolate Panini, Oatmeal Cookie Bars and Cherry and Berry Smoothies!
Remember, "Let's Make Life Special by Sharing Great Food With Our Family and Friends!"  Enjoy!