Three Cheers for Strawberry Sauce!
This easy Strawberry Sauce will be your basic go-to sauce for sweet and sassy desserts!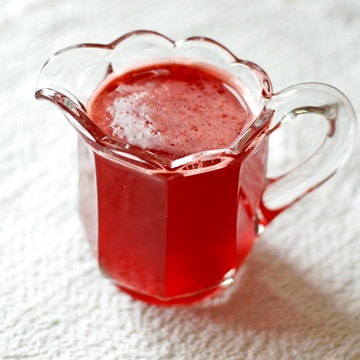 This versatile sauce recipe can be used with peaches, blackberries, apricots, raspberries or blueberries.  If you are making a peach or apricot sauce, just wash and peel the fruit and cut it in to chunks.  Small berries can be left whole.  You can also mix and match different fruits and add flavorings or extracts too.
This dessert sauce is great on pancakes, waffles, ice cream, cheesecake or my Fresh Strawberry Dessert Flower!
I like the sauce to be smooth so I give it some extra time in the blender.  You may want to strain the sauce to remove the seeds if your are using blackberries or raspberries.  No fresh fruit?  No worries!  You can substitute frozen fruit and just defrost it in the microwave before you make the sauce.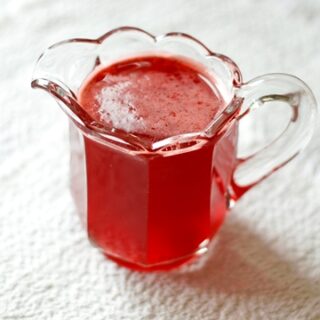 Easy Strawberry Sauce
This will be your "go-to" sauce recipe for all of your desserts!
Ingredients
2 cups of fruit puree as described in the directions below
1/2 cup sugar
1 teaspoon flavoring such as vanilla, rum extract or almond extract
Instructions
Puree
Wash and prep the fruit. For strawberries, cut off the tops; then halve or quarter. Leave small berries such as blackberries or raspberries whole. For peaches or apricots, peel ad pit the fruits, then cut into chunks. Put the fruit into a blender or food processor and process until the fruit is smooth. Note: For blackberries or raspberries, you may want to strain at this point to remove the seeds.
Directions
Pour the puree into a small pan and add the sugar. Stir to mix.
Bring the mixture to a simmer over medium-high heat and cook for 5 to 10 minutes, stirring frequently so the fruit does not stick to the bottom of the pan. DO NOT BOIL.
At the end of cooking time, turn off the heat and stir in the flavorings or extracts of your choice.
Notes
If the sauce is thicker than you like, you can thin it with either water.
This sauce freezes well in either small glass jars or plastic freezer containers.
You can use either fresh or frozen fruit in this recipe. If using frozen fruit, thaw before using. You can defrost the fruit in the microwave for a couple of minutes.
You can serve this sauce either warm or cold.