Easy Alfredo Sauce Is On The Table in Under 30 Minutes!
Creamy, Buttery…..Easy Alfredo Sauce!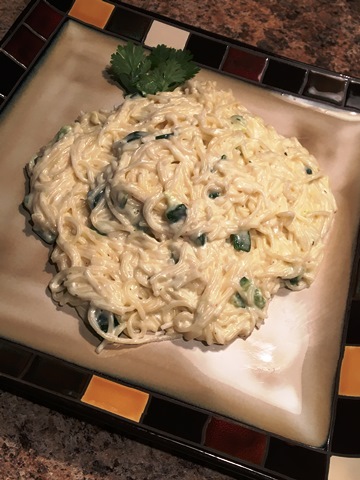 This Alfredo sauce is insanely delicious and easy to make.  This is another great meal that you can have on the table in under 30 minutes!  It's easy on your wallet and your schedule!  You will never go back to ready-made Alfredo Sauce again!  All of my culinary arts students ask for this Alfredo sauce recipe because they have had The Olive Garden Pasta Alfredo and they want to learn how to make it at home.  We added sauteed fresh chopped zucchini to our Pasta Alfredo pictured above and we LOVED it!
You NEED to try this Easy Alfredo Sauce recipe!
Lots of people think Alfredo Sauce is going to be hard to make but it's actually so easy and inexpensive to make.  This is comfort food at it's best!  This recipe will make 2 generous servings and will cover 8 ounces of cooked pasta.  Be sure to double the recipe if you want to cook a whole 16 oz. box of pasta.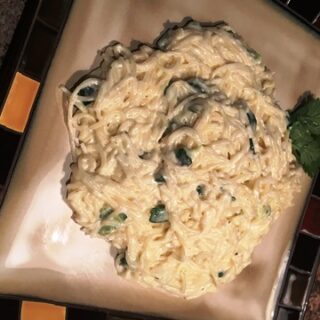 Easy Alfredo Sauce
Creamy...buttery...Easy Alfredo Sauce!
Ingredients
1 pint heavy cream
1/2 cup butter
2 tablespoons cream cheese
1 1/2 c freshly grated Parmesan cheese ( I like to use a block of Parmigiano-Reggiano and shred it myself)
1 clove of fresh minced garlic
salt and pepper to taste
Instructions
In a saucepan, combine the heavy cream, butter and ream cheese, Simmer until melted through and stir well.
Add in the shredded Parmesan cheese and minced garlic. Simmer for 10 to 15 minutes on medium low heat, stirring occasionally, until sauce is thick.
Stir the sauce into hot cooked spaghetti, fettuccine, linguine or pasta of your choice.
Notes
This recipe will cover 8 oz of cooked pasta (1/2 box) so double it for a 16 oz box of pasta.
You can add in cooked chicken or sauteed veggies too!
I always prefer to grate fresh blocks of cheese instead of using a bag of shredded cheese.  I just think the end result is so much tastier!
Shake Up Your Same-ol' Supper Routine with Pasta!
Whether you make this Easy Pasta with just pasta or you add cooked chicken, cooked shrimp or sauteed veggies, your family will cheer!  And, be sure to try these other Make Life Special quick and easy pasta recipes!
Vickie's Quick Marinara Sauce Recipe
Easy Baked Goulash (like my Mom used to make)
Vickie's Best Ever Lasagna (really…this is THE BEST!!!)
Remember…."Let's make life special by sharing great food with our family and friends!"  Enjoy!