The Cookie Thing
Review:  By Nicole
Cookies…..Cookies….Cookies……Time for a confession.  I am not an outstanding baker.  Don't get me wrong, I can make an amazing cake.  But, my skills are limited to just cakes.  Roll out a pie crust?  Okay, but don't expect it to be pretty.  Roll out biscuit dough?  Okay, but you better not expect them to be uniform in size.  Roll out cookies?  Forget it.  I won't even try.  That is, until now. 
The Cookie Thing has changed my views on rolling out cookies.  No longer do I fear uneven cookie sizes that lead to half a cookie sheet being under cooked, a few being perfectly cooked and a few being burned.  Nope.  Now, I can roll out cookies that are even in thickness.  And, the results impressed me to no end! 
The Cookie Thing is made with solid maple and comes with a roller and four varieties of measuring boards. Boards measure in depths of 1/8″, 1/4″, 3/8″, and 1/2″.  So, my favorite chocolate cookie recipe now results in 3 dozen perfectly cooked 1/8" cookies.  Not a single burned cookie in the batch! 
My son loved eating his chocolate doggie cookies.  I loved the fact that they looked like I bought them at a local bakery!  I'm seriously considering hosting a play date just to show off my amazing new cookie skills.
And, I am thrilled that using The Cookie Thing is incredibly easy!  After you prep your dough, you select your size guide for the thickness.  Then, you place you dough between two sheets of parchment paper.  Place the guides on both sides of your dough, but above the top sheet of parchment paper.  Then, roll out the dough.  As long as you roll the dough out till the roller is flat with the guides, your cookies will be the same thickness! 
After you roll out the dough, you can use whatever cut out you choose.  For my cookies, I used a dog shaped cookie cutter. 
Then, bake and cool! 
The results, well they speak for themselves.  Look at these cookies!  I'm so proud! 
 Here is my recipe…….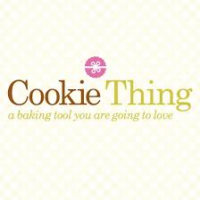 Chocolate Rolled Cookies
Ingredients
1 1/2 cups all purpose flour
3/4 cup unsweetened cocoa powder
1 1/4 teaspoons baking powder
1/8 teaspoon salt
3/4 cup butter
1 1/4 cups white sugar
1 egg
Instructions
Sift the flour, cocoa, baking powder and salt; set aside.
IN a medium bowl, cream together the butter and sugar until smooth. Beat in the egg. Gradually stir in the sifted ingredients to form a soft dough.
Divide the dough into 2 pieces; flatten and wrap in plastic wrap. Refrigerate for 2 hours.
Preheat the oven to 375 degrees.
On a lightly floured surface, roll the dough out to 1/8 inch in thickness.
Cut into desired shapes with cookie cutters. Dough is sticky so be sure to add more flour to the rolling surface as needed.
Place cookie 1 1/2 inches apart onto cookie sheets.
Bake for 8 to 10 minutes in the preheated oven.
Allow cookies to cool on baking sheet for 5 minutes before removing to a wire rack to cool completely.
Who should own this?
The simple answer is anyone who bakes cookies, pies or biscuits.  But, I really see this as a wonderful product for the following groups of people:
1)  Moms of young children (or adult children who love cookies…)
2)  Wives/Husbands/Roommates of a cookie/pie addict. 
3)  Anyone who routinely has to bake for bake sales. 
4)  Those who cater events or who operate a small distribution bakery. 
Where to Buy
For $49.95, you can purchase directly thru The Cookie Thing's website.  
Reviewed by: Nicole
Note:  I was supplied with one The Cookie Thing for review.  No other compensation was received.  The review in this post is honest and my own.