"Love Me Tender" Pork Tenderloin Recipe For Dinner Tonight!
Looking for a pork tenderloin recipe? 
What's for dinner tonight?  How about this delicious Love Me Tender-loin?    This honey butter pork tenderloin recipe is fantastic!  You can have this on the table in 30 minutes and everyone will be asking for seconds!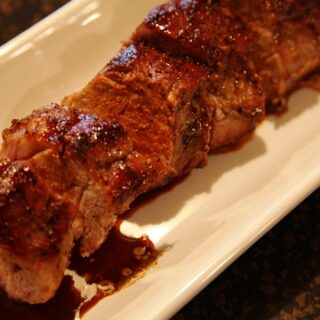 Love Me Tender-loin
Ingredients
4 tablespoons butter
2 tablespoons honey
1 1/2 pound pork tenderloin, trimmed
1/2 teaspoon Cajun Seasoning
1/2 teaspoon black pepper
3/4 cup water
Instructions
Preheat oven to 375 degrees.
In an ovenproof pot ( I used a Dutch Oven) heat honey and butter over medium heat until melted.
Sprinkle pork tenderloin with Cajun Seasoning and black pepper. Brown each side of the tenderloin for 5 minutes in the honey butter. You may have to lower the heat if the honey begins to burn.
Place the pot in the oven and roast uncovered for 15 to 20 minutes.
Remove the tenderloin from the oven and place on a plate. Cover with foil.
Add the water to the pan and stir over medium heat to make the sauce. Simmer for about 5 minutes.
Slice the tenderloin diagonally and serve with the sauce spooned over the top of the tenderloin.
Quick Tips:
Note:  Be sure to buy a pork tenderloin and not a pork loin.  Also, I used my Dutch Oven for this recipe because it goes easily from the stove top to the oven.
Check out these other Make Life Special Dinner Ideas!
Baked Pork Chops and Cornbread Stuffing
Jamaican Me Crazy BBQ Rib Recipe
Both of these recipes are quick to make and your family will LOVE them!  The Baked Pork Chops and Cornbread Stuffing can be on the table in about 30 minutes and the Jamaican Me Crazy Ribs cook in the crock pot for fall off the bone goodness!
Remember, "  Let's make life special by sharing great food with our family and friends!  Enjoy! "