Mocha Gourmet Coffee Float

Everyone loves gourmet coffee drinks! 
Gourmet coffee drinks are all the rage!  Both of my daughters, Nicole and Kacy,  frequent the specialty coffee shops for their daily "coffee fix". Other people like their coffee straight – nothing added. I fall somewhere in between.  My morning coffee has sweetener and Hazelnut Creamer and I start thinking about it as soon as I wake up in the morning.  It's so nice to have things you can count on in life!  
Now,  if you like the specialty coffee drinks, then this recipe is for you!   You can make delicious gourmet coffee drinks at home and this recipe for Mocha Gourmet Coffee Floats couldn't be easier!  When chocolate and coffee get together, delicious things happen!   Here is an exciting chocolate flavored ice cream coffee drink that would be perfect to top off any dessert. Your friends will be so impressed when you offer them  Mocha Gourmet Coffee Floats …and only you will know how easy these are to make!  This drink would be delicious served with any chocolate dessert!  Why not try a brownie bar with all of the toppings and your guests can help themselves.   
Only two ingredients….hot coffee and chocolate ice cream.  Be sure to check out the other variations as well.  Really, the possibilities are as endless as your imagination and taste buds! 
Put two scoops of Chocolate Ice Cream in your coffee mug and top it off with fresh brewed hot coffee.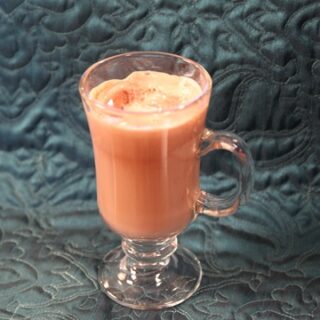 Mocha Coffee Float
Ingredients
Chocolate ice cream
Freshly brewed coffee
Instructions
Put two scoops of chocolate ice cream into each mug.
Pour freshly brewed hot coffee into each mug.
Enjoy!
Be sure to offer sweetener or sugar when you serve this.  I think it is sweet enough, but some people may want to add additional sweetener.   
Variation: Substitute vanilla ice cream or butter brickle ice cream  for one or both scoops.  These are  YUMMY too!
Watch my quick how-to video for Mocha Gourmet Coffee Floats here!
Video: Mocha Gourmet Coffee Float
Gourmet coffee drinks are all of the rage! But what if you don't have a fancy coffee machine? Then make my Mocha Gourmet Coffee Float!
Remember , " Let's Make Life Special  by sharing great food with our family and friends!  Enjoy!