You Have to Make This Parmesan Pasta Recipe!
A simple pasta recipe is a must for every cook!
This Parmesan Pasta Recipe is a great side dish that's quick and easy.  I like to use either Spinach Fettuccine or Garden Blend Fettuccine.  This is good served with any main dish – especially seafood or chicken.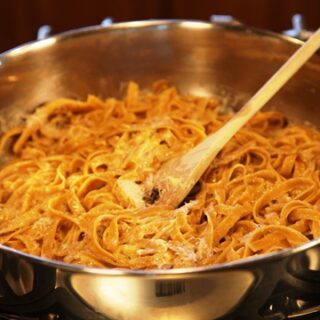 Parmesan Pasta
Ingredients
12 oz Garden Blend or Spinach Fettuccine
4 tablespoons butter
1/2 cup heavy cream (whipping cream)
2 eggs, slightly beaten
1 1/2 cups freshly grated Parmesan cheese
Instructions
Cook the noodles in boiling salted water. Drain and keep warm.
Melt 4 tablespoons butter in another pan or skillet . Add the drained noodles, tossing until hot. Add 1/2 cup whipping cream. Quickly stir in the beaten eggs and 3/4 cup of the Parmesan cheese.
Turn noodles onto serving platter. Sprinkle on the remaining 3/4 cup Parmesan cheese.
Cook the pasta….
Make the sauce in a skillet and add the drained pasta.  Enjoy!
Here you see my Parmesan Pasta topped with Scallops 'A Moscato.  Delicious!!
Make Life Special Makes Pasta!
Try our other quick and easy pasta recipes!