CONTEST CLOSED SeaPak Shrimp Spring Rolls
Toss out the Take-Out Menus –Shrimp Spring Rolls are here!
SeaPak Shrimp Spring Rolls
I was asked to review these and let me tell you–they are YUMMY!  The SeaPak Shrimp Spring Rolls feature tender shrimp and crisp vegetables rolled in crunchy wrappers.  These are amazing!  They are packed full of shrimp that you can taste in every bite.  The spring rolls don't have to be fried — they can be baked in the oven and in about 15 minutes you have hot and delicious Shrimp Spring Rolls for an appetizer or dinner. They also come with a Thai Chili Dipping Sauce.  This sauce has some kick to it and I really liked the added flavor.
The Shrimp Spring Rolls can be purchased at Sam's Club so be sure to pick up a pack the next time you are there.
Here is a recipe from SeaPak that I want to share: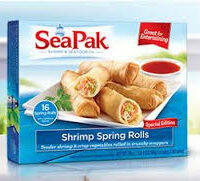 Spring Rolls with Ramen Noodle Salad
Ingredients
8 SeaPak Spring Rolls
1/4 cup red wine vinegar
3 Tablespoons canola oil
1 Tablespoon toasted sesame oil
2 teaspoons honey
4 cups broccoli slaw mix
2 pkgs Original Flavor Ramen ( noodles only)
1 bunch green onions, thinly sliced
2 Tabelspoons toasted sesame seeds
Instructions
In a small bowl, whisk together the vinegar, oils and honey. Set aside.
In a large mixing bowl, add slaw mix and onions. Break up noodles into slaw. Pour dressing over slaw mix and toss to coat. Cover and refrigerate at least 2 hours.
Just beofre serving, stir sesame seeds into slaw. Bake the spring rolls and serve the slaw on the side with the warm spring rolls.
And now for our GIVEAWAY!!    
One LUCKY Make Life Special reader will win all of the following:
A year long Sam's Club Membership
A coupon organizer
A discount SeaPak coupon
and
A Weekly Meal Planner Guide 
The Sam's Club membership will make shopping a breeze and the coupon organizer is a great way to keep up with the grocery list, coupons, recipe clips and more.
Win  it all  !!!!!
Giveaway ends Tuesday April 2, 2013 at 8:00 PM CST
Winner will be chosen by Random.org
 You may do one or all of the tasks 00 evry task completed counts as an entry.  Note:  You must enter a comment at the end of this post for every task you complete.  After you enter your comment in the box,  just hit the post comment button and you are entered!!  Each comment counts as one entry.
Good Luck!! 
TO ENTER
1.  Click the link and become a subscriber to the Make Life Special YouTube Channel:  Make Life Special YouTube
2.  Tell me how you would use the SeaPak Shrimp Spring Rolls.  Would you make the recipe in this post for Spring Rolls with Oriental Salad? …..How about the Spring Rolls with your favorite Fried Rice?  Just tell us in the comment section how you would serve these delicious bites!
3.  Subscribe to Make Life Special's daily feed in the "News and Update" box at the top of this post.
4.  Share this giveaway on your Facebook page, leave the link in the comment box.
Note:  SeaPak provided me with a box of SeaPak Shrimp Spring Rolls to sample for this review.  No other compensation was received.  They are also sponsoring this giveaway.