Looking for a quick and easy apple crisp recipe?
This easy apple crisp recipe is YUMMY! The typical apple crisp recipe has an oat and nut and sugar topping mixed with butter and crumbled on top. This Make Life Special easy version of an apple crisp recipe is topped with a Spice cake mix , nuts and melted butter to create that crunchy sweet topping we all love. Plus, the spice cake mix really adds a great cinnamon and spice flavor to the dessert. And, what could be easier than to use canned apple filling! Make Life Special recipes are all about EASY so enjoy this EASY and YUMMY Apple Crisp recipe!
I recently posted my recipe for Cherry Cake Pudding. One of my readers said she loves to make this recipe with Apple Pie Filling and Spice Cake Mix instead of using the Cherry Pie Filling and White or Yellow Cake Mix. Thank you Victoria H. for this great idea! Here is the recipe for an easy apple crisp recipe: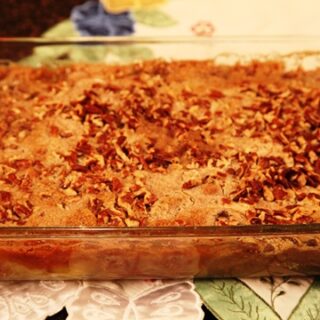 Apple Spice Cake Pudding
Ingredients
2 cans Apple Pie Filling
1 package Spice Cake Mix
2 sticks of butter, melted
1/2 cup chopped nuts
Instructions
Grease a 9 X 13 inch pan. Spread pie filling in bottom of pan.
Sprinkle dry cake mix evenly over the top.
Pour melted butter over the top.
Sprinkle nuts on top.
Bake at 350 degrees for 40 minutes.
Ready for the oven….
Enjoy a big bowl of this yummy dessert right out of the oven topped with vanilla ice cream and caramel topping!
Remember…"Let's Make Life Special by sharing great food with our family and friends! Enjoy!"
Need a Pyrex baking dish to make this baked treat? Here is a special price of $ 12.95 for Make Life Special
readers for a 3 quart oblong Pyrex Grab and Go baking dish with a lid.